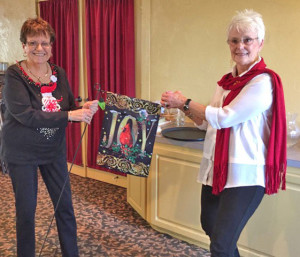 On December 10 the Zeta Sigma sisters met at Little Red Fireside Room for their Christmas function and secret sister reveal. Little Red served a wonderful selection of dishes and desserts.
A business meeting preceded the luncheon and gift exchange. Kay Otis reported during the meeting that the gifts had been purchased for our adopted family and that the gifts and food would be delivered by December 16. Second item of the day was the secret sister reveal. Vice-President Georgia Peifer asked each member to guess who had been her secret sister during the year.
Everyone did such a great job of being secretive, that only one was guessed correctly. The "dirty Santa" game was played to much gaiety and laughter. Everyone enjoyed the game and gift exchange.
Merry Christmas and Happy, Healthy New Year to all.