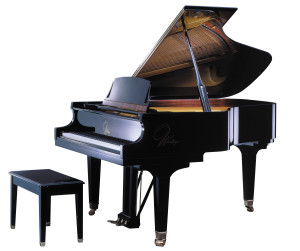 The concept of forming the North Central Arkansas Foundation for the Arts and Education (NCAFAE) originated with Irene Puckett in October, 1989 for the purpose of bringing culture to North Central Arkansas, to the Fairfield Bay area and particularly, to include the area schools historically speaking. The first concert in the Conference Center auditorium featured Herb Ellis, an internationally recognized jazz guitarist and coincidentally, a Fairfield Bay resident.
The second concert was to feature Donna Rollene, a professional opera singer and daughter of Louise and Don Peterson (Don, a board member). The search for a suitable piano in Fairfield Bay for Louise to accompany her daughter was unsuccessful. Al Franking, board member, contacted the Baldwin Corporation in Conway, makers of grand pianos, to determine if a suitable piano could be rented for the NCAFAE concert. An agreement was reached and a baby grand piano was brought to the Conference Center along with a Baldwin employee to assemble and tune the piano. The concert was a great success.
Following the concert, Al Franking contacted Baldwin about the return of the piano. His contact asked if the NCAFAE could buy the piano and leave it at Fairfield Bay. They even suggested the name of a former employee from Rosebud who could give suggestions on financing the purchase. The original retail value of the piano was $19,000. Baldwin offered to sell it to NCAFAE for $10,500. The suggested purchase technique was to sell keys of the piano to raise the money. The First National Bank of Clinton provided a $4,000 loan to start the fund raising. A plywood silhouette of a piano was displayed in the mall with each key painted as funds were received. A contribution for each key at $120 x 88 keys would produce $10,560. The final tally showed 94 contributors provided $10,737. to purchase the piano.
For several years, the piano resided in the lobby of the Conference Center. With the programs in the second floor conference room, it was necessary to move the piano from the first to the second floor each time the piano was needed for a concert. This required removing the main doors of the Conference Center, rolling the piano up the street and into the east doors of the conference room. After the concert, the moving process was reversed.
In later years, the piano was moved to the auditorium at the Shirley schools, where it was used in the NCAFAE programs and other school events. In 2008, the piano was moved to the sanctuary of the Kirk of the Hills. The now older, but still beautiful, ebony baby grand piano is now at home again in the newly renovated Our Towne Conference and Visitor Center in Fairfield Bay. Welcome home baby!