The Weather is Heating Up and so are the Events Happening with Recreation.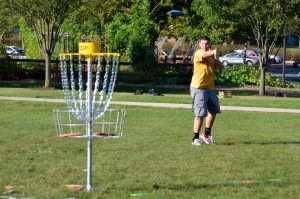 Full Blown Open Disc Golf Tournament, May 5-7
On May 5th-7th Fairfield Bay will host the Full Blown Open Disc Golf Tournament presented by Dynamic Discs. We are excited to have these disc golfers back again. Friday evening will be a non-competition event at Woodland Mead Park, which is our annual Disk Glow unofficial tournament. Official tournament play is scheduled for Friday and Saturday on a temporary course set up at Indian Hills Golf Center. Call recreation at (501) 884-6008 for more information.
Bloomin' in the Bay, May 13
On May 13, we will be assisting the Master Gardner's with their annual Bloomin' in the Bay Celebration. A perfect Mother's Day gift ideas, the Children's Crafting area will be painting and decorating a flower pot and the Gardeners will show the kid's how to plant a flower.
Pool Openings:
Our pool operator, Tom Ross, has been sooo busy preparing the pools for opening. We are scheduled to open as follows:
– BayView on May 1st,
– Mountain Ranch on May 15th and
– Hamilton Cove on Memorial Day Weekend. We are so excited.
The Souvenir Shop at The Cool Pool Cafe is scheduled to open on May 1st. We are receiving merchandise almost daily and know we will have some things you're going to love. Come by and check us out.
Woodland Mead Mini Golf is open for your convenience and really looks good this year. Bowling continues strong at the exciting Fairfield Bay Lanes.
We are looking forward to a great spring and summer here at the Bay. We hope to see you soon and often.
For more information to any of these activities or events, please call (501) 884-6008.
Looking forward to plenty of fun!
Cassie Lopez
Recreation Manager