Spring is here and the Bay is beautiful.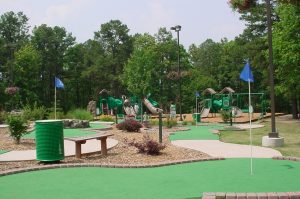 Our Mini-Golf is open seven days a week to welcome both locals and visitors. Season Passes are now available which provide a substantial savings over regular prices
As a reminder, you need to bring your Fairfield Bay Membership or your Wyndham Card each time you visit because your card has become even more valuable. Your card will give you a 10% discount at all Community Club facilities on most items.
Plans for the Souvenir Shop located in the Cool Pool Café are coming along well. We have been receiving merchandise all month and are getting so excited! You are welcome to drop by the Recreation Office and see some of our new merchandise.
It's Easter Time – April 8th
Plans are well under way for our Annual Pre-Easter Celebration, which will be on April 8th this year from 2:00 to 4:00 pm. We have several vendors and games for the kids, as well as free Fire Truck Rides. We have also scheduled an Easter Hat Parade with prizes for the event. Mark your calendars now for a fun Celebration. More details will be available soon in the Lake Area Weekly.
2017 Concert Series to Begin:
We have scheduled the Mercy River Boys concert at the Woodland Mead Park Lions Amphitheater at 7:00 pm on April 29th. Admission is FREE, but donations will be gladly accepted. This is just the first concert in our 2017 Concert Series. Our full schedule will be available within the next few weeks.
For more information to any of these activities or events, please call (501) 884-6008.
Looking forward to plenty of fun!
Cassie Lopez
Recreation Manager