Good Times Ahead this Summer at Fairfield Bay Recreation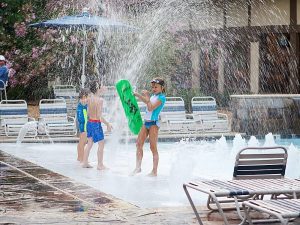 New Recreation Schedule. It is officially tourist season here at beautiful Fairfield Bay, and we are ready for it. We have a summer of fun planned with our new Recreation schedule. This year will even have a day set aside for a "kids camp" to allow grown-ups some adult time and to occupy your kids with activities and lunch during the "camp" time. One of our new classes will be "Kids can Paint", where we will complete a simple painting project in one session. Our Tie-Dye and dream catcher classes continue this summer.
Family Night Fridays: Our new big event will be our Family Night Fridays where we provide hot dogs, mini-golf and a movie all for one low price. The best part is that kids are only $5 (no additional discounts allowed). These will be at Woodland Mead Park with the movie in the Lion's Amphitheater utilizing our new movie screen being built by Fairfield Bay Utilities.
Amphitheater Concert Series: Concerts have been scheduled for the Lion's Amphitheater this Spring and Summer. On June 8th (Kings Highway Gospel Group ) and on June 22 (old-time Country by the Dynamic Duo) are both scheduled for 7:00pm. In case of rain these will be moved to the Fairfield Bay Senior Center. Come on out and enjoy a nice evening under the stars in our wonderful amphitheater which was so generously donated by the Fairfield Bay Lions Club.
Pool Movie Night: Our Movie Night at The Bayview Pool has been changed to Tuesdays this year. Movies will begin at appx. 8:30pm (or dusk). Remember, all Pools Are Open
• BayView
• Mountain Ranch
• Hamilton Cove
The Souvenir Shop at The Cool Pool Cafe is open. We are receiving merchandise almost daily and know we will have some things you're going to love. Come by and check us out.
Our Bowling Alley (Fairfield Lanes) hours are now 3-9pm Tuesday through Thursday, and 3-10pm on Friday and Saturday Nights. Our bowling alley is "alive and well" and still serves up some of the best snack foods around.
Mini-Golf hours have been extended. As of June 5th mini-golf hours will be 10AM-10PM Monday through Saturday. Sunday's hours will be 11am-8PM. Last play must begin at least 45 minutes before closing.
For more information to any of these activities or events, please call (501) 884-6008.
We hope to see you soon and often. Looking forward to plenty of fun!
Cassie Lopez
Recreation Manager