Beautiful Summer is in full swing. No better place to be than the Lake!
July stepped up and showed us what summer is about…HOT! Perfect time to relax & have some water fun.
Get some waterplay in today!: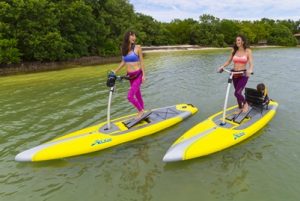 – The new hardtop pontoons with a slide are a hit & you can hear the kids and families laughing across the Bay.
– The Criagcat continues to gain in popularity & is renting steadily as people are experiencing the easy and fun of how the new water toy works.
– Our Hobie Eclipse SUP's are a blast and great workout!
– Plus, there's some great fishing pontoons that are constantly on the water every day, many times being rented for a week at a time!
If you've been to the Marina, you would have seen:
The fireworks were a hit as the marina was buzzing with activity all weekend. The Veterans Barge sold out for our fireworks dinner cruise & was well received with a high number of people asking to book for next years event.
The Community Clubs efforts in gaining us 7 live tv remote broadcasts for Surf The Bay has paid large dividends, we've had many first time visitors from all over the state of Arkansas renting our equipment as a direct result.
We have our parking lot back, or at least part of it due to water levels dropping. The one way drive around is now open. Please be respectful of our handicap parking spaces as the lake continues to drop towards normal levels.
August looks to be a fun & exciting time on the lake, we have all the water toys to fulfill those desires. We're always running sales specials on multiple items in the marina store, stop in & visit, grab a Chow Hall BBQ sandwich & enjoy some summer time with us.
SAVE THE DATE: Paddle Battle & Boati Gras – Saturday September 16th. If you have a paddle, you can battle! Kayaks, SUP's, Canoes and more. And the stay for the day to be part of the festivities of Mardi Gras in September – Boati Gras.
See you at the Lake!
Stay tuned on our marina Facebook page for new & exciting venues we're planning in the near future!
The Marina is the Happening Place to Be.
John Conry
FFB Marina Manager