Photos and article by: Dianne Percefull
Waiting for spring is one of the hardships of a dyed in the wool garden addict…also known as a Master Gardener. Each of us knows in our heart that spring is just around the corner and those few warm days in January and February, with the beautiful blooms of the hellebores peeking through the leaves, make me believe. I have heard it said that an interest in hellebores shows maturity in a gardener, but in fact anyone can appreciate and grow these fascinating plants.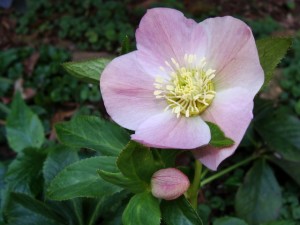 Hellebores, known as Lenten Roses, are old fashioned plants that went out of style and are now making a big comeback. Hellebores would bloom in late winter, near Lent, so they became known as Lenten Roses. With the weather changes we now experience, you will see 6 weeks of blooms beginning as early as December, with most blooming in January and February. These amazing plants withstand heat, drought, bloom in the dead of winter, will grow in almost any soil except clay, like shade or part shade, will grow in rocky soil and have no pests. If that is not enough, add to that list of wonderful traits, that deer will not eat hellebores due to alkaloid toxin in the leaves.
The hellebores we see in our area are the Helleborus orientalis. These are big showy 12" tall plants. In our zone 7, they have evergreen leaves with blooms in burgundy, purple, yellow, white, green and yellow. If left on the plant, the flowers form seedpods and will produce baby hellebore plants, which next spring you can share or transplant. These new sprouts will bloom in approximately 3 years.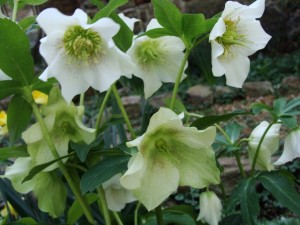 Hellebores are renowned for their tolerance of drought and neglect, although they truly thrive when grown in a moist, but well-drained soil. They are very sensitive to poor drainage, so be sure your soil drains well. Keep in mind, the alkaloid toxin that keep the deer from eating this plant can cause reactions in people who are sensitive.
So give these amazing low maintenance plants a try this year in your garden. You will love them. Many of the Van Buren County Master Gardeners grow hellebores and will have baby plants for sale. You can pick up hellebores and many other beautiful plants at our Annual Plant Sale from 8-1, April 27, in Ed Leamon Park, in Fairfield Bay.
Now, what happened to spring? It's damp and rainy, snow is predicted and its cold! Oh, well, If you squint just right and stand on tiptoe you can just about see spring coming.