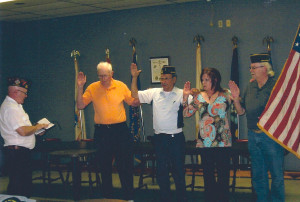 New Veterans of Foreign Wars officers were installed at Post 4513 in Fairfield Bay by Arkansas National Council member, Mike Nuckolls (on left).
Officers pictured from right to left are: Commander, Patrick Hicks; Senior Vice, Christy Edwards; Quartermaster, Roy Madrid and Chaplain, Al Marron.
Come out and support our new officers. Meetings are the first Tuesday of the month at 3 p.m.