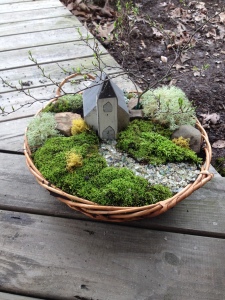 Countdown has begun for the Van Buren County Master Gardener's annual plant sale in conjunction with Bloomin' in the Bay on May 9, 2015 at Ed Leamon Park in the heart of Fairfield Bay. Last year's Fairy Garden was such a big hit that this year, we are expanding on the theme. These whimsical gardens have seen a surge in popularity across the country. The ELP Fairy Garden will be moved from the back of the park to the current Shade Garden bed, which is in between the Rose and Waterfall Gardens. It will be bigger and better, and feature many handmade structures and accessories. We are also excited to announce that will also have a selection of Fairy Gardens for sale. Made in baskets or pots using local plants, rocks and moss, the Fairy Gardens are easy to care for and make the perfect Mother's Day gift! Come early for the best selection and talk to a Master Gardener who can answer your questions about caring for and even creating your own Fairy Garden.
In preparation for the plant sale, we again encourage you to look at your garden and determine what needs to be moved or cut back. If you have a garden bed that is overgrown and needs to be divided or removed, the Master Gardeners will be happy to help divide and donate the excess plants to our annual plant sale. We are looking for quality plants that are overgrown and require periodic dividing such as peonies, hostas, ornamental grasses, variegated liatrope, nandina, Solomon's seal, quality lilies, to name a few. Your beds are revitalized and we repot the extra plants with fresh soil, fertilize and sell at the plant sale. You can contact Marylou Horvath at (501)884-6934 or Eleanor Hilsenrath at (501)253-7272 to discuss a "dig and divide" in your garden.
The plant sale begins at 8:00 am and runs to 1:00 pm, though the festival runs all weekend. We hope to see everyone there!
For more information on the Master Gardener program, please contact Verna Hicks, President, VBC Master Gardeners at (501) 884-3164 or our VB County Extension Agent Danny Griffin at (501)745-7117.