by Cynthia Lacken,
Master Gardener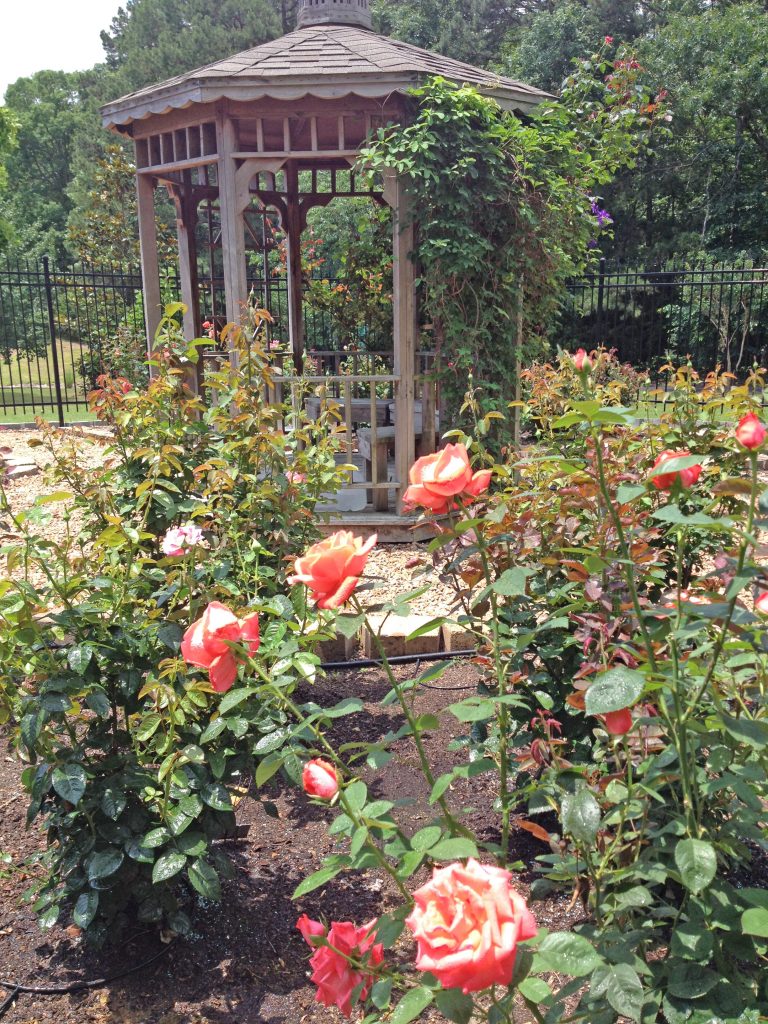 Ed Leamon Park's Rose Garden in Fairfield Bay is one of the most popular spots for a leisurely stroll or quiet contemplation. The flower covered gazebo is a photo op waiting to happen! There are 62 rose plants of every color and size imaginable. Earlier this year, due to the application of "super soil" mulch, we had blooms the size of dinner plates! Every Monday morning from March to November, you'll see a team of Master Gardeners deadheading, weeding, pruning and spraying the roses. It is our privilege to care for these amazing plants. But we have noticed an increasing and disturbing trend. Someone or perhaps more than one person is "poaching" our roses by cutting them, often stripping the leaves and leaving piles of debris and mangled roses behind. For example, this past Monday, we found a "bouquet" of 33 cut, perfect rose buds in the gazebo, simply left to wither and rot in the sun. (It appeared that whoever cut them must have been caught and made a quick getaway.) "Please stop and smell the roses, but don't touch them, cut them or pick them" is the new sign we have posted on the rose garden gate. The roses are there for everyone to enjoy and we encourage you to visit them and all of the gardens in Ed Leamon Park.
Don't forget our upcoming free Master Gardener programs in Clinton:
•TUESDAY, SEPTEMBER 20 "POLLINATOR FRIENDLY PLANTS FOR OUR DECLINING BEE POPULATION" By Marguerite Dory, VBC Master Gardener
•TUESDAY, OCTOBER 18 "STRAW BALE GARDENING" By Linda Yarman, Master Gardener
All programs will take place at the Clinton Library, 289 Factory Road in Clinton from noon to 1 p.m. We are calling them "lunch & learn" programs so bring a sack lunch and join us for an informative hour which will include questions and answers about any of your gardening issues.
Be sure to mark October 14 and 15 on your calendar for the Master Gardener Fall Bulb Sale fundraiser which will again be in conjunction with Fairfield Bay's Octoberfest at the Conference Center in downtown Fairfield Bay. All bulbs are perennial, selected for our zone and ready to plant this fall for a colorful and fragrant start to spring. This year's sale will benefit the beautification of the historic County Court House located in Clinton and the City of Fairfield Bay's Conference Center. The bulb sale will be Friday, October 14 from 9 a.m. to 6 p.m. and Saturday, October 15 from 9 a.m. to 5 p.m. or until we sell out. We hope to see you there!
If you have any questions about becoming a Master Gardener or any of our projects, please contact Mary Lou Horvath, President at 501 884-6934. Applications are now being taken for the 2016 Master Gardener class!