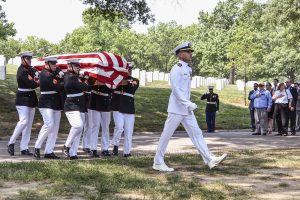 This month, the remains of Private First Class Larry Roberts, a native of Damascus, Arkansas, were reinterred at Arlington National Cemetery. I had the honor of attending his funeral, and I wanted to share his story with you.
It was November 1943, the height of World War II. Private Roberts was assigned to the Special Weapons Group, 2nd Defense Battalion, Fleet Marine Force, and he and his Marines landed on tiny Betio in the Tarawa Atoll of the Gilbert Islands. Their mission was to take the island, which would allow us to advance on to Tokyo and to victory.
Private Roberts and his battle buddies performed brilliantly, but the fighting was fierce: 1,000 Marines and sailors were killed; 2,000 wounded. The Japanese fought to the last man standing. In the end, we won, but it was a steep cost. Private Roberts, like so many others, was killed on November 25, 1943.
In the two years after the war, the 604th Quartermaster Graves Registration Company tried to recover all the remains on the battlefield, but they never found any sign of Roberts. In 1949, a military review board declared his remains non-recoverable.
But just two years ago, the non-profit History Flight discovered an until-then unknown burial site on the island and recovered remains of 35 Marines who had died there. It took two years, but thanks to the amazing work of the Defense POW/MIA Accounting Agency, we were able to identify the remains of Private First Class Roberts.
It was heartening news, especially to the Roberts family. And now, I'm happy to say, he's been laid to rest back on American soil, on our most hallowed ground: Arlington National Cemetery.
Private First Class Larry Roberts died fighting for that highest ideal—that of freedom. He would've been 92 years old this year. It's because of him, and his bravery, and millions of Americans like him, that our country is still here, still standing, still free, as it has been, for 241 years.
*The attached photo was provided by History Flight, the group that arranged for Private First Class Larry Roberts remains to be returned to the United States.