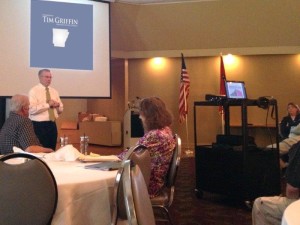 We, at Rotary, were privileged to get Congressman Tim Griffin to speak at Rotary in May 2013. Congressman Griffin gave us a clear and animated picture of some economic problems and possible steps to cure the difficulties.
Congressman Griffin was re-elected as the 24th representative of Arkansas' Second Congressional District on November 6, 2012. For the 113th Congress, he is a member of the House Committee on Ways and Means while also serving as an Assistant Whip for the majority. In the 112th Congress, he served as a member of the House Armed Services Committee, the House Committee on Foreign Affairs and the House Committee on the Judiciary.
Griffin is a graduate of Hendrix College in Conway and Tulane Law School in New Orleans. He attended graduate school at Oxford University. He has served in the U.S. Army Reserve for 17 years, was deployed to Iraq and holds the rank of Lieutenant Colonel. He also served as U.S. Attorney for the Eastern District of Arkansas and Special Assistant to the President and Deputy Director of Political Affairs for President George W. Bush. Griffin lives in Little Rock with his wife Elizabeth and their two children.
Congressman Tim Griffin (AR-02) spoke to a full room at the Fairfield Bay Rotary luncheon on Wednesday. His remarks were part of a presentation designed to help explain the federal budget and why it matters to Arkansans.
"Unfortunately, we have a Pac-Man problem," Griffin said. "You remember Pac-Man: the video game icon that burst on the scene in 1980 and is among the highest-grossing video games of all time. When you look at a chart of what our government spends its money on, you'll see why we have a Pac-Man problem."The mouth of Pac-Man can swallow us up.
The slide shows a series of pie charts that represent federal spending over time. The yellow part in the shape of the popular video game character consists of "autopilot spending" – the amount of money that is spent automatically each year on things like Social Security, Medicare, Medicaid and the interest on the debt. The remaining section, that appearing to be in Pac-Man's mouth, represents "discretionary spending," through which most federal programs are funded. This includes funding for education, defense, agriculture, labor, medical research, transportation and veterans.
Over time, the yellow "autopilot spending" has grown from 42 percent of federal spending in 1970 to 64 percent in 2012. Worse, this yellow "Pac-Man" portion of the pie chart is expected to exceed 75 percent of federal spending by the year 2040.