"Belle Starr Hides Out"
From The Choctaw-Clinton Past-Times, 1882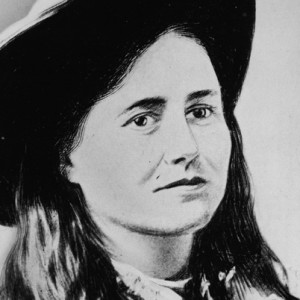 Belle Starr, notorious female outlaw is believed to be hiding out in the Clinton area of Van Buren County. A large cave north of town (Ed. note – this cave is believed to be at the site of the Natural Bridge) shows traces of the outlaws visit. Belle Starr and her husband, Sam Starr, a Cherokee, are the object of a posse's search following the issuance of warrant at Fort Smith for horse stealing.
Belle, the bandit queen, intimate of such notorious figures as Cole Younger, his brothers Jim and Bob, Frank and Jesse James, has been suspect in many bank and train robberies. The Youngers are now serving life sentences in the state penitentiary at Stillwater for the attempted robbery at Northfield, Minnesota on September 7, 1876, in which two citizens were killed and no money was taken.
All concerned citizens are asked to be on the lookout for this woman, She is an excellent horsewoman and shot. She is an experienced gambler and will take any challenges over the card table. She is probably dressed in fringed buckskins, with a necklace of rattlesnake rattlers, however, she is often seen in a flowing dress. Belle wears a pair of pistols strapped to her waist at all times.
A liberal reward is offered for the capture of Belle and Sam Starr. If you have any information leading to the arrest and capture of these fugitives, please contact the local sheriff.