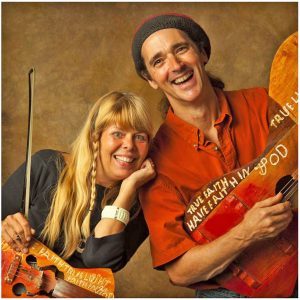 They're B-A-A-A-A-CK!!! "Still on the Hill," will return to our community to help celebrate spring, plants, growing and Ed Stilley on Sunday, May 22, 2016. They will appear in concert at the Fairfield Bay Conference Center at 2 p.m. As is always the case, attendees can be assured of a most interesting and fun experience with this musical duo sharing their original ditties featuring and celebrating life in the Ozarks.
This year's program will honor Ed Stilley. "Hmm-m, Ed Stilley. Where have I heard that name before?" He was recently featured in the April, 2016 edition of Arkansas Living as being divinely inspired. A native of the Ozarks, Mr. Stilley is known as a preacher, farmer, hymn singer and maker of musical instruments, many of which have been highlighted in "Still on the Hill's" concerts over the years.
Born in 1930, Ed and his wife, Eliza, (and five children) lived near Eureka Springs, AR for 46 years until they moved to a "more modern place" in 2005, a few miles away, but closer to family. Mr. Stilley feels he has been "called" to make musical instruments by hand and give them away to children or whoever needs them. Although he has no formal training, Mr. Stilley uses scrap wood and metal, saw blades, pot lids and springs to enhance the instrument sound. He has made more than 200 guitars, fiddles and dulcimers, all inscribed with the words "True Faith, True Light, Have Faith in God."
Kelly and Donna Mulhollan (professionally known as "Still on the Hill") have known the Stilleys for twenty years. Kelley has published a book, "True Faith: The Devotional Art of Ed Stilley" (2015), which chronicles the life and times of Ed Stilley and documents 50 of the more than 200 instruments built over a twenty-five year period.
Please join us for a memorable afternoon at 2 p.m. FFB Conference Center, 110 Lost Creek Parkway on Sunday, May 22. The event is sponsored by the North Central Arkansas Foundation for the Arts and Education (NCAFAE) as well as by the Arkansas Arts Council, and is a no charge event. However, donations are encouraged and will be cheerfully accepted at the site so that NCAFAE can continue to bring top quality artists, concerts, displays and educational programs to the community as well as schools.
Please call 501-884-4202 with any questions.