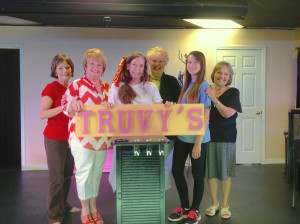 Cast inludes left to right: Jackie Rohrer, Sharon Luxon, Sean Garow, Willa Wells, Nikki Owen and Sharon Schaffer.
Once again Our Towne Productions is putting their take on an old classic. This time it is the perennial favorite "Steel Magnolias" by Robert Harling.
The action is set in Truvy's Beauty Salon in Chinquapin, Louisiana, where all the ladies who are "anybody" come to have their hair done. Helped by her eager new assistant, Annelle (Seana Garrow), the outspoken, wise-cracking Truvy (Sharon Luxon) dispenses shampoos and free advice to the town's rich curmudgeon, Ouiser (Sharon Shafer); and eccentric millionaire, Miss Clairee (Willa Wells); and the local social leader, M'Lynn (Jackie Rohrer) whose daughter Shelby (Nikki Owen) is about to marry a "good ole boy".
Filled with hilarious repartee and not a few acerbic by humorously revealing verbal collisions, the play moves toward tragedy when, in the second act, the spunky Shelby (who is a diabetic) risks pregnancy and forfeits her life. The sudden realization of their mortality affects the others, but also draws on the underlying strength – and love – which give the play and its characters, the special quality to make them truly touching and marvelously amiable company in good times and in bad.
Steel Magnolias will be presented at the Fairfield Bay Conference Center every Thursday in July starting July 9 at 7 p.m. Tickets may be purchased for $15 at the Conference Center and at the Library. Persons wishing to purchase with a credit card should buy their tickets at the Conference Center.