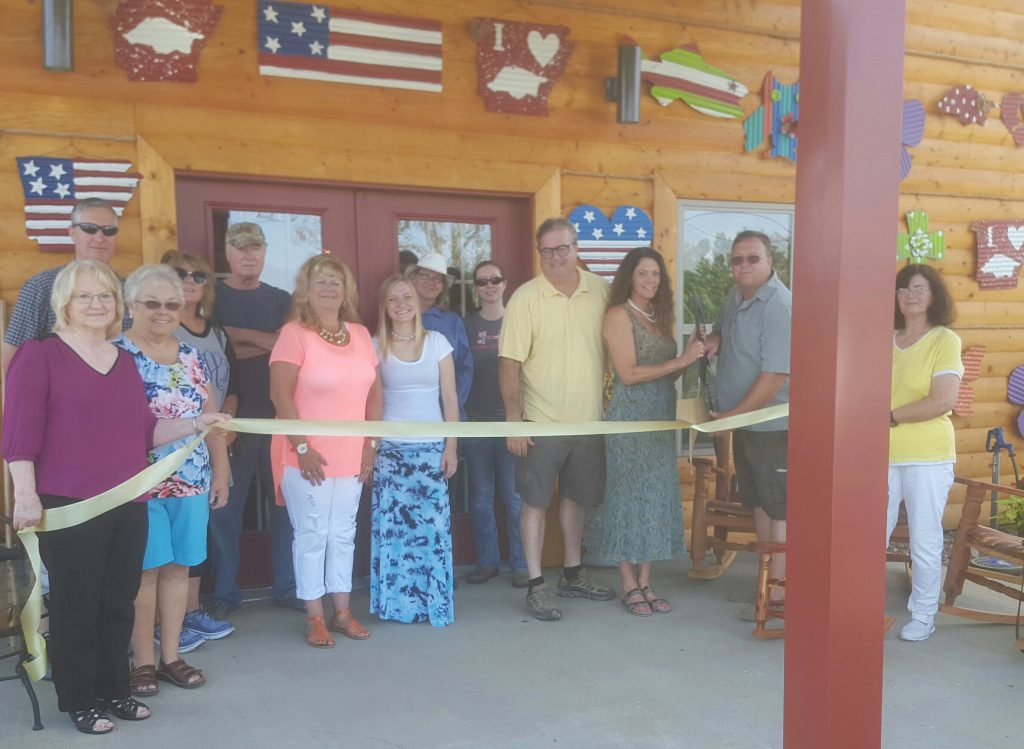 Greers Ferry Area Chamber of Commerce held a ribbon cutting a Souvenir Xtraordinaire on Saturday. Owner, Heather Garrett, husband Jon, entrepreneur, Mary Lewis, Mayor John Carlton along with family and friends.
Heather Garrett, owner of Souvenir Xtraordinaire in Greers Ferry is very excited and pleased to open her new shop, which was purchased, June 2015.
An Open House and Ribbon Cutting was held on Saturday, July 30, 2016 with 101.9 The Lake, Jambus, broadcasting live.
Driving to Heber Springs that morning, Kim and I noticed many vehicles parked and a flurry of people in and around the new store.
Not only is the store unique looking from the outside, but inside is bright and full of very unique items that may very well be an awesome gift for someone special or to brighten up your own home.
Heather and her husband, Jon, are excited to be part of the great community of Greers Ferry and that is why they have their store filled with antiques and consignment merchandise from local artists and craftsman. This gives the artists and craftsman a chance to show off their wares and create sales, stimulating the local economy. It doesn't cost the artist or craftsman anything to put the merchandise on display.
There is such a wide variety of merchandise, from $6 to $1,500, depending upon the buyer's taste. So there actually is something for everyone.
Souvenir Xtraordinaire is located at 8584 Edgemont Rd. in Greers Ferry. You can visit their facebook page at https://www.facebook.com/souvenir.xtraordinaire?fref=ts. You can also email Heather at [email protected] or call 901.299.4194 with questions.
Hours of operation are 9 a.m. to 5 p.m. Monday – Sunday.