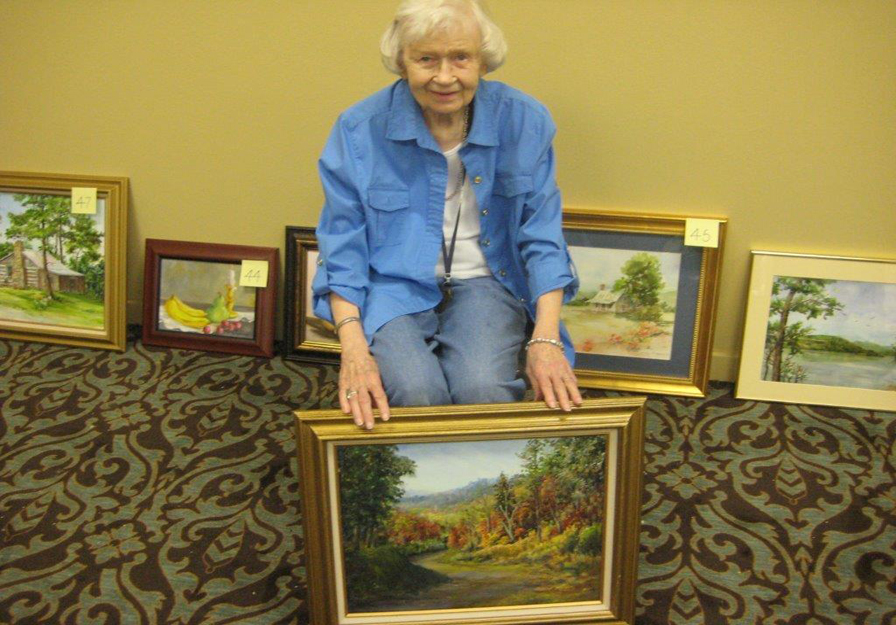 The North Central Arkansas (NCA) Art Gallery, located in the Fairfield Bay Conference & Visitors Center, (110 Lost Creek) is featuring the artwork of the late Melva King. Melva and husband Alex, settled in Fairfield Bay in the late 1970s. Melva had a nursing career when she retired from the military. She had taken extensive art classes in different medias including oil, watercolor, sculpture, drawing and pastels. She maintained a studio in her home until Alex' death then she moved to Indian Rock Village. Melva was a co-founder of the North Central Arkansas Artist League. She was the First "You Make a Difference Award" winner by the North Central Arkansas Foundation for the Arts & Education (NCAFAE) and Past President of the NCA Artist League. She painted on a regular basis with the artist league and exhibited her artwork in various galleries sponsored by the league. She loved painting with her dear friends Bonnie Hookman, Charlotte Rierson and Leila Berry. She was also grateful to her artist friend, Doris Sexson, who helped keep her hair looking wonderful. Bonnie and Melva painted a mural for the City Hall that is now housed in the Ozark Medical Health Building. She had a cheerful attitude, easy going style, lovely smile, unique laugh and sense of humor. She was known for her love of the outdoors ,which was reflected in so many of her paintings. Melva is missed by her many friends.
Please view her paintings in the foyer of the Conference Center as well as the NCA Art Gallery. The Conference Center is located at 110 Lost Creek Dr., Mon. thru Fri. 9 a.m.-4 p.m.
See related article about the gallery.
Calling All Artists!
The North Central Arkansas (NCA) Art Gallery invites Painters, 3 Dimensional Artists and Photographers to submit works for the Oct. 19 Art Exhibition in the Fairfield Bay Conference Center. The artwork is open to all artists eighteen years or older. Registration forms are available at the Conference Center or e mail Charlotte Rierson, Art Coordinator [email protected] Deadline for entry is Oct 12- Mail entries to Charlotte Rierson, P.O. Box 1643, Fairfield Bay, AR 72088, or drop off at the Fairfield Bay Conference Center.