Cheeseburger in Paradise, Thank you!
I would like to say thank you Fairfield Bay for supporting the Education Center at our annual benefit dance – Cheeseburger in Paradise! With your help the committee was able to raise over $4,000 for the benefit of the community. The good food was donated and prepared by volunteers. The great music was performed by Lucky Draw! The silent auction donations were spectacular and enjoyed by the highest bidders. My heartfelt gratitude goes out to Cindy Wellenburger, Kay Otis, Linda Duncan, Sharon Luxon, Tauna McBee and Bonnie Lang for their expert leadership. Look for this grand event to take place next year.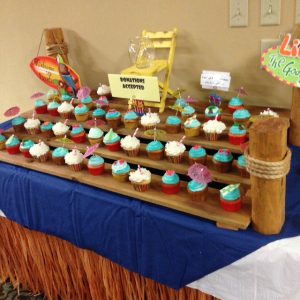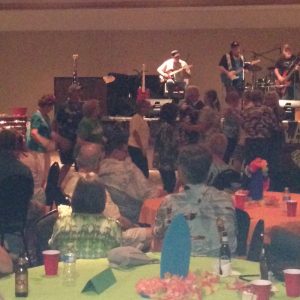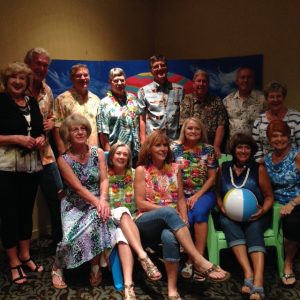 We are now coasting into the glorious fall season of the year, usually spectacular here in the foothills of the Ozark Mountains. Activities at the Education Center include:
• The return of the popular Wilton Cake decorating classes, just in time for the holidays,
• A spectacular Sterling Scholar's Lecture lineup,
• Our health and wellness Thursdays continue with a Diabetes presentation in September,
• A return of the weekly Arkansas Alzheimer's Education group in October,
• Our very popular Wednesday evening yoga class will resume in early September,
• The Fairfield Bay ROCKS group has been busy in the studio painting rocks for their projects,
• Instructors are ready to give private lessons on piano, guitar and now conversational Spanish.
Sterling Scholars Lecture Series
First Wednesday/Thursday of each month 1:00pm-2:00pm FREE ($10 donation suggested)
Thursday, September 8 – Poetry, Creative Writing and Paxton book series – Dr. Stanley Lombardo
Dr. Lombardo has taught screenwriting, technical writing, British literature, film studies, science fiction, and applied linguistics at Arkansas Technical University since 1977. He is the author of a series of historical fiction books – Paxton at Bosworth Field, Paxton in the New World, and Paxton Versus the Armada – three novels that take the Buffalo hunting hero from the 1800's West to the English court of King Richard III and on to adventures in the New World.
Dr. Lombardo will read "The Martyrdom of Saint Windbreaker" and "The Ballad of Sir Halliwell Hobbes," which are poems in PAXTON IN THE NEW WORLD and PAXTON VERSUS THE ARMADA respectively. He also has two children's books in verse that he is currently preparing for publication: "The Christmas Dragon" and "Lucas and Nellie: The Tale of the Lake Dardanelle Serpent."
Wednesday, October 5 – Women in Aviation – the Ninety-Nines – World Speed Record Holder Carol Foy
In December 2008, after 18 months of planning, pilots Carol Foy and Carol Ann Garratt set out from Florida's Orlando International Airport in a small, single engine airplane and flew westbound around the world. Garratt, who flew around the world in 2003 and again in 2008 with Foy, wanted to raise awareness and donations for amyotrophic lateral sclerosis – ALS (Lou Gehrig's Disease). They arrived back in Orlando 8 days, 12 hours and 20 minutes later.
The 2008 flight was certified as the U.S. record by the National Aeronautics Association and as the International Record by the Federation Aeronautique Internationale. Carol's lecture will not only look at the inspiration and logistics of the trip, but also what it is like to share a small cockpit for 158 hours, leaving the plane only 8 times.
Following her presentation, Carol will join a panel of local female pilots, who will share their stories of piloting their own planes over the last 60 years. Several of the women are members of Amelia Earhart's organization of female pilots – the Ninety-Nines. This group was formed in 1929 when Amelia announced an organizational meeting of female pilots at her home in New York – 99 women attended.
Wednesday, November 2 – Arkansas Master Naturalist Tom Nowlin
Clinton resident and Arkansas Master Naturalist Tom Nowlin will discuss how the Master Naturalists Organization supports the natural areas in our communities through volunteering with building and maintaining trails, leading interpretive hikes and talks, and restoring and maintaining wildlife habitats and observation areas. Striving to strengthen their partnership with Fairfield Bay, they welcome new members into the Naturalists In Training program, a 40 hour course of approved training on Saturdays starting in January 2017 and continuing through early May. These classes are comprised of classroom lecture and field explorations lead by Master Naturalists with expertise in areas of biology, botany, geology, herpetology, and astronomy. The first scheduled class at our Education Center is in February 2017 with a presentation on ornithology and a guided tour of the eagle nests on Greer's Ferry lake.
Our regular classes continue to draw in both residents and resort visitors, and we have added new classes to the schedule. Please visit our facebook page: FFB Community Education Center for our weekly class schedule.
Thank you for your support,
Dr Catherine Swift