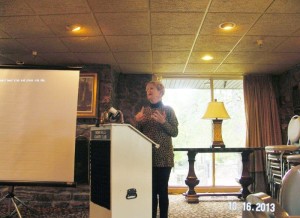 Mollie Mills talked to Rotary, telling us about the good work the 'Red Cross' does to help and assist people in difficult situations. Mollie lived in Florida until 2006, then Mollie retired to Arkansas with her husband Dick. Mollie graduated from Florida State University and then received a Masters degree in Counseling from Florida Atlantic University. Professional experiences were in Counseling, including community mental health, victim advocacy and school counselor. Most recently, she was a K12 counselor at West Side School in Greers Ferry.
Last March, Mollie joined the Red Cross. She shared some of her experiences volunteering with the Red Cross at the recent floods in Colorado. She spent two weeks in Greely, Ft Collins, and Loveland, working as a disaster mental health counselor assisting the victims of the floods. The American Red Cross worked around the clock to provide food, shelter, relief supplies and comfort as people across Colorado continue to recover after the recent historic flooding. Every year the Red Cross spends an average of $345 million preparing for and responding to nearly 70,000 disasters across the country, such as this one. Financial contributions to ARC Disaster Relief allow them to serve victims of disasters, anywhere, anytime. Disaster victims need the essentials right away, such as food, water, shelter, first aid and emotional support. Those are just some of the things that a donation to Red Cross Disaster Relief buys. It is also important to know that 91 cents of every dollar is used to support disaster victims.
I have good memories of Red Cross assistance right after World War II. We were liberated from a concentration camp in the Ukraine and we were lucky to have survived. We did not know about my father's whereabouts or whether he was indeed alive. We contacted the Red Cross and so did my father. The Red Cross helped us get together and after a difficult walk across Europe, thanks to the Red Cross, we found each other in France.