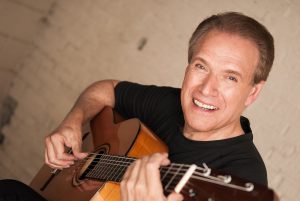 "He has duende, the Spanish equivalent of soul!" says a fan in Madrid, and he is the only person to be awarded a Fulbright scholarship to Spain to study Flamenco guitar.
Born in California, Mr. Radford grew up in Oklahoma and now lives in St. Louis, Missouri, from where he continues his career as one of the most successful ambassadors of Flamenco music in the world. Ronald Radford is known internationally as the "American master of the Flamenco guitar." He began his career as a student of the legendary Flamenco guitarist, Carlos Montoya, and studied classical guitar with Andres Segovia. He has traveled thousands of miles in Spain studying the music of the Spanish gypsies…and as we know, Flamenco music is commonly known as "Spanish gypsy music."
Mr. Radford has performed at New York's Carnegie Hall, Washington's Kennedy Center, and at colleges and concert halls across the United States. His international tours have taken him to fifteen countries, from Australia to Switzerland and from Canada to Panama. He toured for State Department as a musical ambassador in Mexico, Guatemala and other Latin American countries.
He appeared on network television on the "CBS Newcomers Show" and his exciting CD, "Viva Flamenco!", and his DVD "Live Your Passion!" are available world-wide.
The North Central Arkansas Foundation for the Arts and Education (NCAFAE) is very pleased to sponsor this gifted artist along with the Mid America Arts Alliance and the National Endowment for the Arts. Please join us on Sunday, June 12, 2016; at the Fairfield Bay Conference Center; 110 Lost Creek Parkway; 2 p.m. Mr. Radford will share not only his music of the Gypsy Flamenco guitar masters, but will also transport the audience to Spain through imagery, both musically and verbally.
There is no charge for this event; however, donations will be accepted. Your generous support will benefit efforts to bring first rate artists, artistic displays and teaching opportunities to both the community as well as schools. We look forward to seeing you there!