Pecans Crusted Trout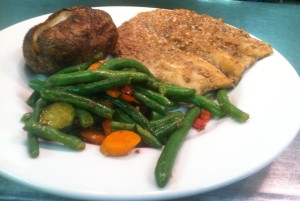 Turn the catch of the day into delicious dinner in only 25 minutes. Hot pecan-crusted fish fillets are cooked easily on stove top and are served with lemon wedges.
Ingredients:
1, 6 to 8 oz Trout Boneless filet
1 cup of Pecans.
1 cup of flour.
½ cup bread crumbs.
Salt to taste
Pepper to taste
2 oz of unsalted butter for cooking.
Preparation:
Pecan Breading                                                                                                                                                  
First will need to run the Pecans through a food processor just enough to make the pecans coarse. Then in a large mixing bowl add your Flour, Bread crumbs, Pecans, salt & pepper and mix together well.
Rinse trout thoroughly under cold water. This removes any excess scales or undesired brine.  Dredge the Trout in your Pecan breading, coat well on both sides. Then in a medium sautee pan heat butter till melted. Once your butter is hot add your Trout to the pan.  Making sure to place trout in front to back so as not to splash yourself with hot butter.  Sear the Trout on both sides for about 2 minutes per side or until desired doneness. Once both sides are nice and crispy remove from the pan and plate with desired sides.   ENJOY