Corned Beef and Cabbage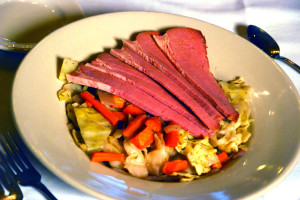 Everyone knows corned beef and cabbage is the traditional St. Patrick's Day meal, but you can enjoy this great meal all year! So, start today. Great for feeding a large group, and only requires one pot. The leftover corned beef, served cold on dark bread with mustard, makes one of the world's great sandwiches.
Ingredients:
¼ cup Butter or Margarine
2 Carrots peeled and chopped
2 Red onion peeled and chopped
1 Cabbage cored and chopped
Salt and pepper to taste
Dried thyme   pinch
½ cup Apple cider vinegar
Water enough to cover cabbage about half way
Corned beef  – boil in water till tender  (about 2 hours)
Preparation:
Melt butter and add carrots. Cook till carrots are about half done then add the onions. Continue to cook till onions are done. Add cabbage, apple cider vinegar, and water. Boil cabbage and vegetables till cabbage is done. Add salt, pepper, and thyme. Stir throughout cooking process. Slice or shred corned beef when done. Place cabbage in bowl with sliced corned beef on top.