Sweet Potato Casserole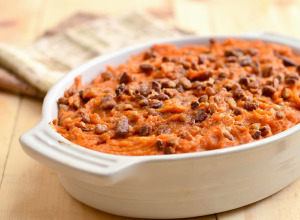 A sweet potato casserole is a must for any holiday gathering. A delicious mashed sweet potato casserole with a crunchy pecan topping. Easy to make-ahead.
Ingredients:
4 Large sweet potatoes
8 Eggs
1 cup vanilla
2 cups brown sugar
1 cup white sugar
Topping
Panko bread crumbs
Brown sugar
Pecans
Preparation:
Place potatoes in a 350 degree oven for about an hour or until soft. Can be done a day ahead. Chill potatoes. When potatoes are cold peel the skin off. Place peeled potatoes, Vanilla, and eggs in bowl and mix together. When this is well mixed add the sugars and mix well. Place mixture in pan and bake on 350 for about 45 minutes or until sets up. While this is in the oven mix together topping ingredients.
When potatoes are done pull from oven and coat with thin layer of topping. Place back in oven till topping is brown. 20 minutes or so. Feeds about 6. ENJOY.