French Onion Soup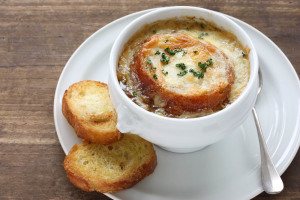 Fried Chicken is an American tradition! Just saying those words bring back memories of family gatherings and stories around the table. Moist and Crispy, and ready for you to bring out that skillet and give it a go!
Ingredients:
• Onions 6 to 8
• Beef Broth 1 gallon
• Black pepper
• Granulated Garlic
• Croutons
Preparation:
Peel and chop the onions. I like to use red onions for the sweetness. Add beef broth to your pot followed by the onions. Allow mixture to come to a boil then turn down to a low simmer. At this point add a couple dashes of black pepper. More or less to taste. Also add the granulated garlic. A couple dashes of it as well. Let the soup simmer long enough for the onions to become clear.
That is all there is to it. Very simple. Ladle the soup into a bowl and add the croutons to the top and enjoy.
This is not a traditional French onion soup, but is the way I have been preparing it for a long time and have had many compliments on it. I hope you will enjoy it too.
ENJOY.