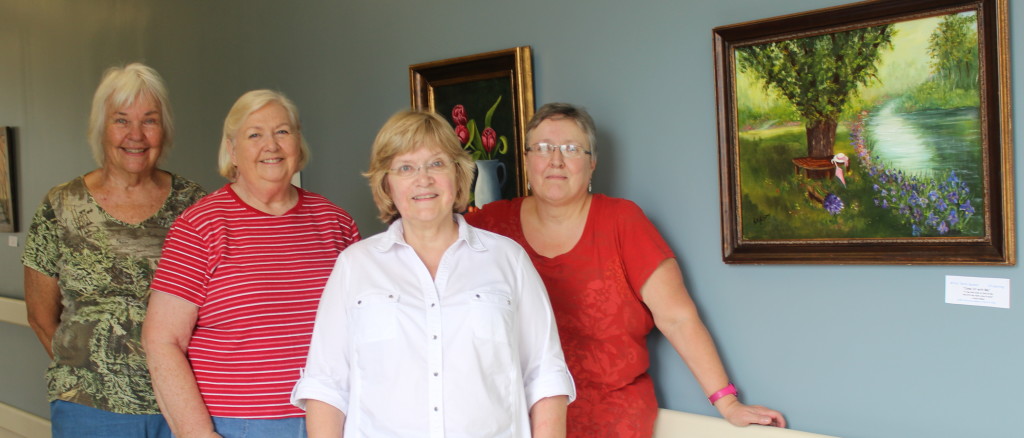 The public is invited to visit the new exhibit "The Poetry of Art" at the Ozark Health Medical Center on Highway 65 in south Clinton through November 9.
Featured art includes both framed and unframed originals and prints by local area artists, all members of the North Central Arkansas Artist League. Title cards match poetry to the art. For instance, a painting by Charlotte Rierson of Fairfield Bay includes an original poem written by her daughter especially for her painting. There are also original poems by Lee Phillips, also of Fairfield Bay, from his new book, PhotoProse II, illustrated by Choctaw artist Joyce Hartmann. Alison Shreck quoted Maya Angelou for one of her memorable oil paintings, "I Know Why a Caged Bird Sings." All artists chose poetry to match their paintings. Doris Sexson features beautiful oil florals and landscapes. Oil painter Ellen Kelly shows several beautiful country landscapes. Watercolor portraits, florals and designs are displayed by Sue Pico and Joan Bland. Sunflowers in watercolor, a favorite of many viewers, are featured by Diana Foote and Jan Cobb. Colorful florals are depicted in acrylic by Kathleen Hadley. Artists portrayed many other subjects to bring viewers excitement and entertainment. This exhibit can be seen upstairs in hallways between the nursing home and the cafeteria seven days a week from 9 a.m. to 9 p.m.
More new art is also displayed downstairs in the Oncology wing. This display features florals, country, landscapes, and abstract in oils, watercolor and other media, and is designed to provide cheer to patients and staff. This exhibit is open Mondays through Fridays from 9 a.m. to 6 p.m.
Art can be purchased at the Gift Shop, and the Hospital Auxiliary receives a portion of each art sale for their projects to help patients.
The NCA Artist League welcomes new members who are interested in improving their art. They sponsor workshops and demonstrations throughout the year and paint together each Monday morning in Fairfield Bay. Their group exhibits can be seen in Fairfield Bay, Clinton, and Greers Ferry. For more information, contact President Joan Bland, or exhibit coordinator, Joyce Hartmann, or any member.
The next scheduled Artist League event is a free demonstration for members and guests by artist, Coe Wilson, of Morrilton, who will share some of her techniques on painting portraits in oil, on Thursday, August 20 at 10 a.m. at Bayside, the Artist League's painting studio located on Highway 330 and Greenwood Dr. in Fairfield Bay, across from the road to the Marina.