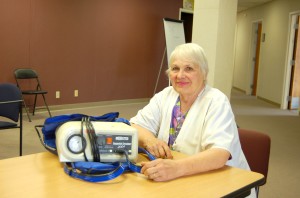 The definition of Lymphedema (according to Wikipedia.com) is a condition of localized fluid retention and tissue swelling caused by a compromised lymphatic system. The lymphatic system returns the interstitial fluid to the thoracic duct and then to the bloodstream, where it is recirculated back to the tissues. Tissues with Lymphedema are at risk of infection. In layman's terms, that means poor circulation caused by compromised lymph nodes causing swelling of the extremities due to fluid retention.
While visiting Ozark Health for her annual Mammogram, Scotland resident, Joyce Burns, mentioned to Ozark Health Radiology Manager, Sheila Main, that she had undergone Lymphedema Management while living in Washington. During the course of the conversation, Mrs. Burns mentioned that she was given a circulation pump and expressed her wish to donate it to the hospital. Sheila Main gladly accepted the kind offer on the hospital's behalf and requested a Lymphedema program be implemented at Ozark Health.
The Ozark Health Development Department began to research Lymphedema Management Services and applied for and received the Susan G. Komen grant to train and certify an Occupational Therapist.
Until recently, patients suffering from Lymphedema had to travel to Conway or Little Rock to receive treatment for the condition. Now those patients can receive the treatment they need closer to home. Ozark Health Occupational Therapist, Carlie Tapley, received her qualifications as a Certified Lymphedema Therapist after the somewhat unorthodox, albeit welcome, series of events.
Because of the need for a Lymphedema program at Ozark Health, identified through casual conversation with a patient, now other conditions can also be treated at Ozark Health, such as Chronic Venous Insufficiency, Lipedema, post traumatic and post surgical swelling, Inflammatory Rheumatism, Fibromyalgia and more.