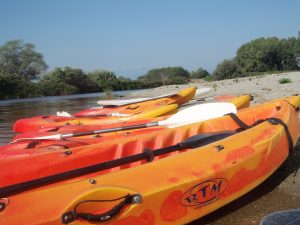 Monday, May 16, 2016 at 8:30 a.m. is the Outdoor Adventure Kayak/Canoe Trip to Sugarloaf Mountain. This is the third trip we have done. The starting point is the Mueller home at 106 Eagle Shore Circle (Enchanted Peninsula Subdivision). It is one mile to the mountain and takes about 20 – 30 minutes in a kayak. John Teer and Tom Welch will have pontoons available for the ride over if you do not want to Kayak/Canoe.
Kayaks are available for rent at the Marina for $35 half day. They open at 8 a.m. so you can either get it the evening before or when they open that morning. Just tell them you are with the Outdoor Adventure Group.
Once we are at Sugarloaf we will participate in brunch and drinks. Everyone brings something to pass plus supply your own drinks. We spend at least 1 1/2 hours at the dock for anyone wanting to walk up Sugarloaf and back!! If it is warm enough, we might even be able to swim. Please e-mail me at [email protected] if you are planning on going. We need to know if you are kayaking/hiking/or both.
We will make a decision the day before or early morning if the weather is going to be bad. The following Monday, May 23, 2016 will be alternate date.
Wally and Nancy Mueller