Buffalo River Day Trip – June 10th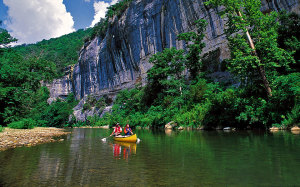 Inviting all adventurers for a day trip on the Buffalo River June 10 with a rain date of June 12. We will meet and depart from the parking lot at Indian Hills 8 a.m. sharp, then caravan up to Wild Bill's Outfitters at the Buffalo State Park area just off Highway 14. We'll put in at the Hwy 14 Bridge. Canoes will be available to rent at Wild Bills, or bring your own. Pack rain gear just in case. Bring your lunch for dining on the river.
This is about a 4 hour float depending on the water level. Our take-out point will be at Rush – which is an old mining ghost town now. We'll take a short hike here that will give us some history on the old town. This trip will require basic paddling and steering skills. It's a class I section with a few fast chutes, towering bluffs, flora and fauna galore. If you're an experienced canoeist and wouldn't mind a novice floating with you, please let me know. Please contact Tom Iverson at 901-258-4874 or [email protected] Hope to see you on the River.
Looking Farther afield – Fall Hiking:
Hiking will begin again in November. This fall we may also take in a scenic drive and have lunch at the Cliff House, which overlooks the Arkansas Grand Canyon in NW Arkansas. Each activity includes a brunch at some small town café and sometimes ends with a "happy hour". The Group is open to any other suggested Outdoor Adventures. If you have a suggestion for an Outdoor Adventure or would like to be added to the Groups emailing list email Tom Iverson at 901-258-4874 or [email protected]