Two weeks ago, this column outlined cheapskate, Ernest Smedley's latest attempt to rise out of the ashes after being dumped by Mildred, his online bride of five years, was finally fed up after his latest scheme had backfired. Smedley renewed his posting on an online dating/match website, "PlentyofFish" using the same template from five years prior that worked to snag Mildred, but now posting a new picture passing himself off as his nephew, Knott Smedley.
The online posting by Smedley was almost irresistible as he portrayed himself as wealthy, healthy, adventurous, kind, compassionate – you name it, he was the full monty – with the picture of the debonair but scary-looking "Knott" Smedley adding icing to the cake. Emails came poring in from all over the world, seeking to enlarge a dialogue with Knott Smedley, and hopefully ending in a permanent relationship.
Smedley prioritized these inquiries with money as his primary requirement. (Smedley had access to a data base which provided him with the financial status of an inquirer. How he had this portal, no one knows, but it was key to his plans.) The online respondent could be young, beautiful, educated, charming, but if she had no money, her inquiry went into the circular file. Of the hundreds of inquiries, Smedley singled out one that offered the potential of hitting the motherlode he had always dreamed about: her name was "Char Leslie Murgatroyd", a seventy year old childless widow, sitting on a $$ pile seven figures high, living in an upscale gated community in Las Vegas, NV.
Smedley calculated that when it came time for a face-to-face meeting, "Char" could be won over by his charm and schmoozing, overcoming the deficit of his less than handsome features that otherwise might turn the lady off. Also, as her picture presented her as being only modestly attractive, a little heavy in most places, with a face of rather large features – nose, ears, and chin, Smedley figured that "Char" might not be too demanding when it came to his looks as well. Smedley knew he could live with her deficits in this area as she could be his mealticket for the ages.
After several weeks of back and forth emails, followed by lengthy telephone conversations exchanging hopes and dreams, Smedley flew to Las Vegas for their first face-to-face encounter. Smedley, playing his role as if he were up for an Academy Award, arrived at her residence in a limo, toting two dozen roses. From there, they did the town royally, with Smedley picking up every tab with his credit card (soon to be maxed out). Smedley also did his best to spruce up his features and his wardrobe by dyeing his hair, shaving off his beard, and wearing mandate (a male girdle). "Char" was so impressed with his generosity and his sincere interest in her, that she was able to overlook his homeliness, giving Smedley the impression that she indeed would be interested in marriage.
Oh Happy Day! Oh Holy Jackpot! After another week of thoroughly enjoying each other -playing the slots, hitting all the shows, and dining lavishly, the love birds decided to tie the knot at the Las Vegas Strip's famous Wedding Chapel. After signing a few papers that "Char" insisted were simple formalities and with no families to notify much less get permission, "Char" and "Knott" repeated their vows in front of the Chapel's Justice of the Peace. After a wonderful wedding banquet, they made their way to the Belagio Bridal Suite for the activities attaching to a honeymoon.
Smedley realized after their two week whirlwind courtship, that although "Char" was seventy, she desired physical romance, so Smedley was prepared to do the best he could in this area, swallowing a few blue pills right afer dinner. "Char" excused herself and retired to the bathroom to make ready for bedtime. Smedley slipped into his maroon silk pajamas and waited patiently for "Char" to make her exit from the bathroom as his bride.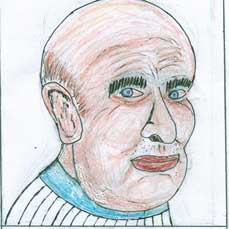 And this is as far as this story can go other than to say that "Char" was really Charles Leslee Murgatroyd, with all the attibutes of a transvestite. Smedley Had Met His Match!