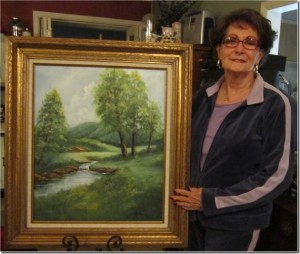 A new oil painting class will begin at the Fairfield Bay Community Education Center on January 16. This class will meet each Thursday, 9:30 to 11:30 a.m. for 5 weeks. Instructor Doris Sexson has chosen a warm Spring mountain scene full of green grass, water , and blue sky as the subject for this class painting. Students will learn exciting new techniques of oil painting. Beginning students and returning students are welcome to register for this class by calling the Education Center at 884-4440.
Each student will need to bring to class the following supplies: one 16×20 or 18×24 canvass
Oil paint colors – white, ultra marine blue, cad yellow, burnt umber, burnt seina.
Brushes – a stuby bristle, can purchase in class # 8 or 6 and a #1 longliner. A painting aporn or an old shirt, and a roll of paper towels.