March 28, 1946 – May 15, 2017
Dwinaline Leighton Barron, 71, of Shirley, Arkansas, passed away on 05/15/2017 in Little Rock, Arkansas.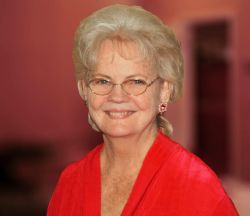 Visitation will be from 1:00 pm – 3 p.m. on Saturday, May 20, 2017 at the First Baptist Church in Fairfield Bay, Arkansas. Funeral services will follow at 3 p.m. at First Baptist Church of Fairfield Bay with Pastor Tony Thomas, Pastor Darrell Black and Rev. Ester Bass officiating. Burial will be at Bradford Cemetery in Shirley. Arrangements are by Roller-McNutt Funeral Home.
Dwinaline was born in Plant City, Florida to the late William R. and Easter Mae Leighton on March 28,1946. She was a graduate of Plant City High school and was married to Keith R. Barron on September 19,1964 in Plant City, Florida. Dwinaline was involved in ministry for 48 years. 28 of those years were full time, on the road all over the USA. She was a faithful servant to her family and God.
Dwinaline is preceded in death by her parents, her brother, Donald Leighton and her sister, Doris Butler.
Dwinaline is survived by her husband, Keith R. Barron, her daughter, Heather L. Dunn (Casey), three brothers; Dawson Leighton, Doyle Leighton, Dalton Leighton, four sisters; Desiree Catrick, Dorothy Johnson, Donie Pruitt, Doritha Spier, two grandchildren; Blain Lassiter and Alexus Dunn, other relatives and a vast number of friends.
Pallbearers will be Dustin Lott, Luke Lucas, Kevin Blackman, Casey Dunn, Sydney Barron, Timmy White, and honorary pallbearer, Wade Lucas Sr.
Memorials may be sent to P.O. Box 95, Shirley, Arkansas, 72153
The family of Dwinaline wishes to extend our sincere thanks to all the doctors and nurses, Cornerstone Hospital and Conway Regional, everyone who came today, all the calls and texts and facebook posts from all our friends and family, and all the churches that have reached out.
For online guestbook, www.rollerfuneralhomes.com/clinton