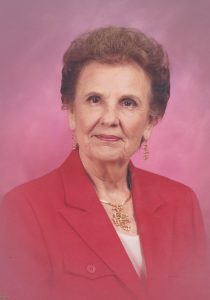 Bonnye L. Busch, 94, passed away May 25, 2017. She had relocated during the last year of her life from Fairfield Bay, AR, to Topeka, KS, to be in the care of her family.
Bonnye was born Bonnye Lynn Harris in Angleton, TX, Sept 27, 1922, to William Bond Harris and Dola Lynn (George) Harris. She graduated from Angleton High School where she participated in many extracurricular activities, including serving as the majorette for the marching band. Throughout her life she was always going beyond what was expected, contributing many hours in later years as a volunteer in the Fairfield Bay Community.
She was married July 17, 1943 to Robert E. Busch, who preceded her in death.
Her professional career was as Executive Secretary and Administrative Assistant to the President and CEO of Hannibal National Bank in Hannibal, MO, where she resided since 1955. After retirement she relocated with her husband Robert to Fairfield Bay, where they enjoyed golfing and just being together.
She was active in the Kirk of the Hills Presbyterian Church as a deacon and active member of the Presbyterian Women's Association, a volunteer at Wear and Share, and a volunteer at the local animal shelter. She was admired for countless good deeds, boundless energy and great compassion, as testified by neighbors and friends.
Two sons, Robert E. Busch, Jr., of Brookings, OR, and Barry L. Busch of Topeka, KS; two grandsons, Robert E. Busch, III, and Roy E. Busch, both of Arcata, CA; and a granddaughter Melissa Busch of Portland, OR; and three great grandchildren survive her.
An informal service is planned in late July at Kirk of the Hills Presbyterian Church, where her ashes will be interned.