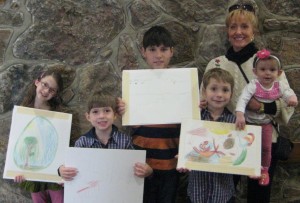 All the children, Lydia,  Oliver, Brad, Eli, Lainey, and Gran Mom Char.
Looking for a fun and creative activity? Then, the North Central Arkansas Art Gallery in The Our Towne Conference and Visitor Center at Fairfield Bay is the place to visit. Recently, the Peacock family, from Jacksonville, came to visit their grandparents, Don & Charlotte Rierson. This was a home school field trip planned to see their Grand Mom's One Woman Art Exhibit at the Fairfield Bay Library. The Exhibit showcased a painting that Lydia's Grand Mom Painted for her "Lydia and (her Mentor) The Peacock." After viewing the Exhibit at the Library, they made their way to the North Central Arkansas Art Gallery where their Grand Mom Char. (Charlotte Rierson) is the Art Gallery Coordinator. All of the grandchildren were excited about seeing the many different paintings and sculptured art on display. Grand Mom conducted a docent tour (new word for them-meaning "someone that gives tours"). After viewing the art work a special activity was set up for each one. They were given paper and colored pencils to paint their favorite piece. The children are home schooled by their mother and this field trip and activity was helpful in teaching points of interest in the artwork. You can see by the artwork displayed in the photograph of the children with their Grand Mom that their efforts earned them a well deserved special lunch at a local restaurant.
There have been so many favorable comments by family and friends about this event that the Art Gallery is encouraging more students to tour the gallery and learn the etiquette as well as enjoyment involved when touring Art Galleries. The Art Gallery's mission is to bring quality art with family values to our community. The art is presented by local artists that include paintings, photography, sculptor, stain glass, and pottery. The Art Gallery is open for viewing the art Monday thru Friday from 9 a.m.-5 p.m. and for special events. The NCA Art Gallery is located in The Our Towne Conference and Visitor Center, 110 Lost Creek Parkway, Fairfield Bay. For information and to schedule a special event please contact The Center's Directors Wilba or Bob Thompson at 501-884-4202.