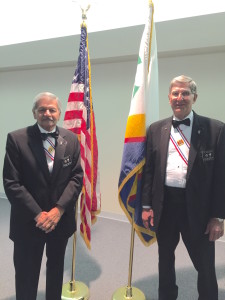 June 28, 2015 was a special day for the Knights of Columbus at St. Francis Catholic Church in Fairfield Bay, Arkansas. District Deputy, Ron Wildman from Heber Springs, installed 2015-16 officers for the Third Degree and District Master, Newton White from Hot Springs, installed new officers for the Fourth Degree of the Knights of Columbus.
Reverend Oliver Ochieze, pastor of St. Francis, is the Chaplain for the Third Degree. He is also the Friar for the Fourth Degree. He led the prayers and blessings for the installations. The Third Degree emphasizes Charity, Unity and Fraternity while the Fourth Degree emphasizes Patriotism. A social and lunch followed the installations.
Joe Preusser will serve as Grand Knight for the Third Degree Council 8815 and Tony Diaz will be the Faithful Navigator for the Fourth Degree Msgr. Joseph A. Murray Assembly 2116. Other Third Degree officers include: Deputy Grand Knight-George Kelly. Financial Secretary-Sid Roberts, Chancellor-Bill Lemm, Recorder-Val Newsome, Treasurer-John Keating, Advocate-Tom Kelly, Warden-Larry Raymond, Inside Guard-Lee Johnson, and Outside Guard-George Brogna. Trustees are Tony Diaz, Mike Fields and Francis Grillot.
Fourth Degree officers working with Faithful Navigator, Tony Diaz include: Captain-George Kelly, Pilot-Lee Johnson, Comptroller-Frank Roost, Scribe-Gene Brock, Purser-Tom Lang, Inner Sentinel-Tony Cuttone and Outer Sentinel-George Brogna. Trustees are Pat Barone, Rollie Winters and Bill Lemm.