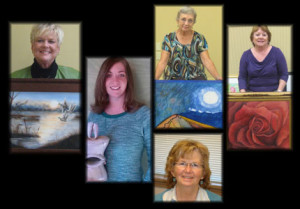 The North Central Arkansas (NCA) Art Gallery is showcasing six of the 34 artists that are exhibiting in the present art exhibit held in the Our Town Conference & Visitors Center, Fairfield Bay.
The NCA Art Gallery brings quality Fine Art to our community with good taste & family values. The artwork is open to all artists & is juried by a selection committee under the direction of Art Coordinator, Charlotte Rierson.  The exhibit changes March 3.
Art Gallery hours are Mon. Thru Fri. 9:00-5:00 unless special events or conferences then the hours are extended.  The viewing of the Art is open & free of charge to the public. All the art is available for purchase.
The NCA Art Gallery is sponsored by the North Central Arkansas Foundation for the Arts & Education (NCAF&E) in collaboration with The City of Fairfield Bay.
For more information contact NCA Art Coordinator, Charlotte Rierson-501-680-2741, email [email protected]  or Our Towne Conference Center Directors, Wilba or Bob Thompson for more information-   501- 884-4202,   [email protected], 110 Lost Creek Parkway, Fairfield Bay 72088.
The following are the featured artists being showcased:
Karen Hamilton-Hicks
Karen was born and raised in Allen, Texas and recently moved to build a ceramics studio in the Ozark Mountains. She decided to leave the world of academia and dive into the life of a full time artist that she had always dreamed of. She received her BFA and MFA at the University of North Texas in Denton and then was an adjunct Professor and the full time Ceramics Lab Technician there for three years. She makes one of a kind, handmade, functional pottery and dabbles in photography.
Robbie Miller
Oil is Robbie's medium with an impressionistic style of landscapes, seaside, still life, water scenes on mostly large canvases.  She began painting at 13 and has painted intermittently for more than 50 years.  Her long career includes many years in the graphics industry, chamber of commerce, economic development, and most recently served as director of the Fairfield Bay Community Education Center.  Robbie now lives in Conway with her husband, Ernest Miller, Jr.
Dianne Traylor
Dianne is a lifelong resident of Arkansas and started drawing and painting at a very early age. Other life's priorities got in the way and she did not paint for a long time. Later, after much encouragement from family and friends she picked up the "brush" and started painting again. Dianne likes painting landscapes, flowers and wildlife in oils and acrylics. Her art now hangs in a number of galleries in North Central Arkansas.
Raylene Finkbeiner
Raylene is retired from teaching elementary school after thirty-five years and starting devoting her time to painting.  As a member of the Perry County Arts League and the North Central Arkansas Art League, she became active and began weekly lessons in oil and acrylic painting.   Her Dad was a commercial artist for a large movie production company. She paints in her studio where she can escape into her beautiful world of watercolor.  She has received several awards; her works are in private collections in Illinois, Missouri, and Arkansas.
 Sherry Guess
Sherry's interest in Photography developed as a part of her position at the Fairfield Bay News in 2011. When the FFB Community Education Center opened, they offered classes in Digital Photography, so she embarked on a very enjoyable journey of learning more about this unique art form of expression through the camera lens. Since then, she seldom leaves home without her camera equipment. Sherry is the Director of the FFB Community Education Center and is a Charter member of the Bay Photo Club which organized in April, 2013. Sherry and her husband, Gary moved to Fairfield Bay in 2009.