The North Central Arkansas (NCA) Art Gallery is featuring Guest and local artist, Anne Mitchell.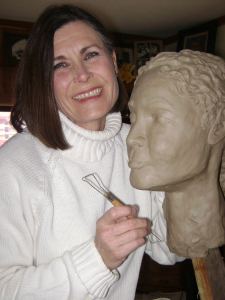 Anne Mitchell has made her home in Clinton, having moved from the mountains of southern California.  She devotes her time to the family's small farm and to her studio, and being active with the Arkansas Sculptors' guild.  She has traveled the U.S. and parts of Europe, enjoying the diversity of art and life in these areas.  Currently, Anne is working on her "Equus" series in bronze and has just completed a commission for a U.S. Army Reserve unit. She received her degree at the University of California in Riverside and Master Studies in Art History, Sculpture and Art Courses at Colorado State University, Fort Collins. She has recently taken the position of Art Teacher in the Clinton School District. Come and see Anne's outstanding clay and bronze sculpture pieces.
 North Central Arkansas Art Gallery – New Art Exhibit!
The North Central Arkansas (NCA) Art Gallery invites you to visit & view the new Art Exhibit, opening Dec 1st. The Art includes paintings, photography, sculpture, fusion glass, stain glass, pottery, as well as other art forms. The NCA Art Gallery brings quality Fine Art to our community with good taste & family values. We want to encourage you to view the Artwork and help support the Artists, NCAFAE, and the Conference Center.
About the NCA Art Gallery.
The NCA Art Gallery is located in the Fairfield Bay Conference & Visitor Center. The viewing of the Art is open & free of charge to the public. All the artwork is available for purchase. You are invited to visit & view the beautiful Art Exhibits. The Artwork also includes paintings, sculpture, fusion glass, stain glass, and pottery. The artwork is open to all artists & is juried by a selection committee under the direction of Art Coordinator, Charlotte Rierson. Art Gallery hours are Mon. thru Fri. 9:00-4:00 unless there are special events then the hours are extended. Nov.-Feb. the Conference Center will be closed on Mon. The NCA Art Gallery is sponsored by the North Central Arkansas Foundation for the Arts & Education (NCAF&E) in collaboration with The City of Fairfield Bay. For more information, or purchase of artwork, contact NCA Art Gallery Coordinator, Charlotte Rierson-501-680-2741, email [email protected] or FFB Conference Center Directors, Wilba or Bob Thompson at 501- 884-4202, email [email protected], 110 Lost Creek Parkway, Fairfield Bay 72088.