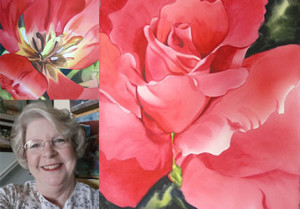 Marlene Gremillion, a Hot Springs Village, Arkansas artist, enjoys creating and designing in many mediums. Texture plays an important role in what she designs, be it in oil, pastel, watercolor, collage, glass or jewelry. She enjoys working, manipulating and creating with her hands and experiments to see if she can come out with a pleasing artistic piece. Marlene is active in the arts and enjoys teaching. She teaches at the National Park Community College in Continuing Education and at the Arkansas Arts Center in Little Rock. Marlene is teaching a two day watercolor workshop to the NCA Artist League held at the Conference Center. She is a registered teacher through the Arts on Tour with the Arkansas Arts Council Little Rock, AR.
Marlene is a signature member of Mid-Southern Watercolorists and Louisiana Watercolor Society. The NCA Art Gallery is located in the Fairfield Bay Conference & Visitors Center. You are invited to visit and view the Art Exhibit. The Artwork also includes paintings, sculpture, fusion glass, stain glass and pottery. The artwork is open to all artists and is juried by a selection committee under the direction of Art Coordinator, Charlotte Rierson. Art Gallery hours are Mon. thru Fri. 9 a.m.-4 p.m. unless there are special events, then the hours are extended. The viewing of the Art is open and free of charge to the public. All the art is available for purchase. The NCA Art Gallery is sponsored by the North Central Arkansas Foundation for the Arts & Education (NCAF&E) in collaboration with The City of Fairfield Bay.
For more information contact NCA Art Coordinator, Charlotte Rierson at 501-680-2741, email [email protected] or Fairfield Bay Conference & Visitors Center Directors, Wilba or Bob Thompson for more information- 501- 884-4202, [email protected], 110 Lost Creek Parkway, Fairfield Bay 72088.