Joyce Hartmann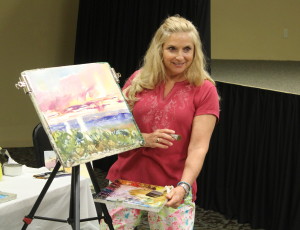 Cynthia Schanink of Hot Springs Village entertained 22 art appreciators as she taught watercolor techniques on Monday, July 13, at Fairfield Bay Visitor and Conference Center. The free event was sponsored by the NCA Artist League.
Beginning with a wet half-sheet of Arches 140-lb. cold press rag paper, she applied pale gold and crimson colors with large brushes for the sky, then proceeded to add blues in the distant hills at the horizon. Warm greens, browns, and darker colors were applied in the foreground, and rocks appeared like magic with scrapes and stamps of a cut-up credit card. Dark trees and foliage were saved for last, with more brush strokes followed by scrapings with a beveled brush handle.
"You make it look so easy!" people said in the audience, and she replied that it was, if only they would give the medium a chance to do its thing. Ever encouraging, she said that she got her start back in high school when her teacher demonstrated watercolor techniques, which "took my heart." Since then, she has made a career of painting, and many opportunities have opened to her because of her abilities in watercolor, including teaching on cruise ships which enables her to travel all over the world and paint.
As Feature Artist for the NCA Art Gallery this month, Cynthia has six large paintings that can be viewed in the lobby of the Fairfield Bay Visitor Center.
Cynthia is president of Brush Strokes Artist League in Hot Springs Village, is an educator on the Arts on Tour Roster of the Arkansas Arts Council, a signature member of Mid-Southern Watercolorists, an award-winner at plein air events, and a vacation rental owner. She teaches workshops at various locales, with a plein air paint out coming up on August 3 and 4 on Mt. Nebo, where she provides beds and even prepares food for her students. More information can be found on the website www.artsummitnebo.com .
The NCA Artist League sponsors occasional demonstrations and workshops by well-known artists, and occasional field trips to galleries. Their next planned demonstration is by Coe Wilson on August 20. Several members meet each Monday morning to paint together informally and encourage each other in their projects. Presently they meet in the Fairfield Bay Education Center during construction at Bayside, their regular location at Greenwood Rd. and Highway 330. Further information about the club can be obtained by contacting President, Joan Bland, or any member.