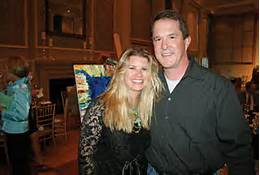 On May 13 – 14, a team of artists and consultants from Little Rock will be in Clinton to discuss adding more murals to the area's growing collection of public art.
Pat and Tracee Matthews, nationally-known artists, are coming to Clinton to assist with the development of murals for "We Love VBC", the downtown revitalization initiative in Clinton. This is part of the Breakthrough Solutions Program with the University of Arkansas Cooperative Extension Service.
Downtown Clinton already has several pieces of public art including murals by artists Hart Williams and Morton Brown, and a fountain sculpture by artist Hank Kaminsky. Local business owners and revitalization organizers have been in discussion with artists in Clinton and Fairfield Bay about the prospect of at least four new sites for murals.
On Tuesday, May 13, at noon there will be a meet-and-greet with a light lunch served at the Clinton Municipal Airport. The public is invited to attend. The artists will talk about their work and will spend the day touring Clinton and determining optimal mural locations. At 3 p.m. the artists will begin working on their designs inside Two Kidds Creations and Occasions at 358 Main Street in Clinton. The community is welcome to stop by and see them work.
For those who cannot attend the noon gathering, there is another opportunity to meet the artists at that evening's pie auction fundraiser for the Adrienne Wilbers Small Business Grant which begins at 6:00pm at the Clinton High School Cafeteria. That event is held by the Clinton Chamber of Commerce.
On Wednesday, May 14, the artists will present their work and recommendations at noon at the airport along with a presentation about grants and fundraising opportunities for public art. The public is invited and refreshments will be served.
More information about the revitalization initiative can be found at: www.welovevbc.com
The Clinton Chamber of Commerce can be reached at 501-745-6500.