by Pat Sullivan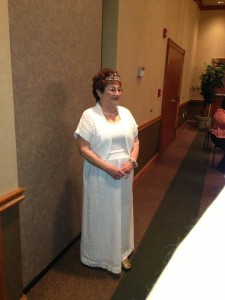 I joined TOPS for the third time in 2007 after I stepped on the scales at home and weighed 221 or more (I never let the scales come to a stop). I had been teaching part time at the local Vo Tech, teaching Medical Professions classes and my students wanted to weigh me when I taught them how to use a doctors' scale! No way was I going to weigh in front of my students. I had been in denial for years after I stopped working full time as a nurse/Office Manager in 2004. The scales shocked some sense into me and I immediately started watching what I ate and became more active. I lost over 15 lb. before joining TOPS but weighed in at 205 ¾ just the same.
Numerous health problems, such as diabetes type 2 have crept into my life since 2002 and I'm constantly battling one health problem or another but TOPS has been a Godsend for me and taught me to increase my activity and cut down on calories and be accountable. My TOPS Pals have been very encouraging during this journey. I took the office of Asst. Weight Recorder soon after joining and in about 2008 I became the Weight Recorder for my chapter because it helped me to attend meetings every week. I love all of the things TOPS has taught me and have reached my first goal of 160 lb. I still want to lose more weight but will just take it one step at a time.
On Saturday April 27, 2013 the above story of my success in TOPS AR 0294 Fairfield Bay was read to an audience of approximately 400 in the Eureka Springs Convention Center.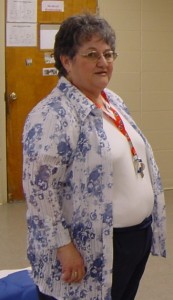 I was honored to have it announced to everyone that not only was I a graduating KOPS (Keep Off Pounds Sensibly) but was our local chapter Queen for 2012 because of my weight loss of 45 3/4 lb since I joined this local TOPS group in 2007. It was also announced that I was the Arkansas State Runner Up Queen. As Runner up I had a sash attached to my graduating outfit and was presented with a crown, a pin, a charm and a beautiful bouquet of red roses and had to sit on the stage with the state Queen and King. My story, shown above, was read to the audience and I received much applause and positive and congratulatory comments, especially after all of our ceremonies. I know I'm not at ideal weight, according to chart weight for my height, but I'm working on losing more weight as my health improves and encourage everyone to consider TOPS as a positive approach to weight loss. TOPS holds meetings every Monday morning at 9:30 a.m. at The Hart Center and last about an hour, after weigh-ins, which are from 8:30 a.m. thru 9:15 a.m. Our Leader is Barbara Neal and our coordinator is Nancy Edwards, both of Fairfield Bay. Nancy's number is 501-884-3917, give her a call if you have any questions. Guests are always welcome to come and visit one meeting for free. After that the joining fee is only $28 per year and our monthly chapter dues are only $2.