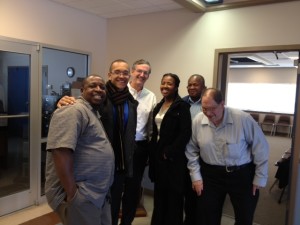 Five representatives of Moses' Coffee House, from Oakland, CA, visited Fairfield Bay on April 3 lead by founder Moses Hawkins. Moses' Coffee House is a new startup company that has selected the Fairfield Bay Conference Center as one of their 5 new coffee houses planned to open this year. The Fairfield Bay connection is with Kenneth Kirkwood, who is a long time property owner in Fairfield Bay. They also own property in Little Rock that they plan to open.
Moses' Coffee House will be similar to a Starbucks as far as offerings, with some unique twists. Their strategy fits in perfectly with the planned use of the Conference Center to feature local artists and artisans. The next step will be to work out detailed facility requirements and a city review of the Moses' Coffee House business plan and artistic renderings. Pending results of those details, a lease agreement may be negotiated.
The thought of the aroma of coffee and pastries and a setting in front of the beautiful lobby fireplace is very appealing. We are hopeful this makes sense to both parties and comes to fruition. Pictured left to right are: Moses Hawkins, Kenneth Kirkwood, Jr., Paul Wellenberger, Grace Ramsey, Haywood Hawkins, and Kenneth Kirkwood.