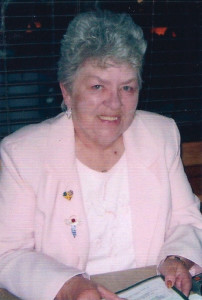 The Ladies Auxiliary, Veterans of Foreign Wars, Southern Conference elected Karen McKeever of Fairfield Bay as President for 2013-2014 at the annual meeting November 2, 2013 in Orlando, Florida. The Southern Conference is comprised of Alabama, Arkansas, Florida, Georgia, Kentucky, Louisiana, Mississippi, North Carolina, South Carolina, Oklahoma, Tennessee, Texas, Virginia and West Virginia.
Karen is a 30-year life member in Arkansas, her home Auxiliary of Post 4513, Fairfield Bay. She is eligible through her late husband, Raymond Smorol (Lt. Col., U.S. Army Retired, Dec.) who served in the European Theatre and was State Commander of Arkansas. Karen has served all offices in local, district, State of Arkansas and National Council. She is also a member of the American Legion Auxiliary 37 (McAllen, Texas) and Military Order of the Purple Heart Auxiliary (Ft. Smith, Arkansas) along with Our Lady of Guadalupe (Mission, Texas) and St. Francis of Assisi (Fairfield Bay, Arkansas). Karen is a 28 year participant with Arkansas' LAVFW District 6 Color Guard (9-time National Field & Drill champions).
Karen has two children; Steven Emanuel of Wisconsin and Kristine Robertson of Illinois and has "inherited" a wonderful extended family of nine stepdaughters and sons, along with grand and great-grandchildren, residing cross-country in these United States. Karen resides during the winter at the Hidden Valley Ranch in Mission, Texas. In her spare time, she enjoys traveling, reading and loves casino action.
Officers from Arkansas this year will include: Marjorie Wright (Fairfield Bay), Sharon Nuckolls (Fox), Patricia Leitner (Fairfield Bay) and Linda Evans (Greenbrier).