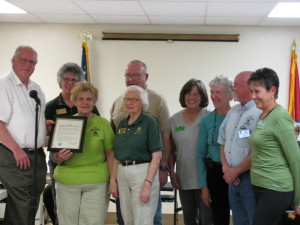 The Van Buren County Master Gardeners were presented with a proclamation at the Quorum court meeting on Thursday, April 17 by Judge Roger Hooper in recognition of "efforts in making Van Buren County landmarks more beautiful for the citizens of our county and for tourists to enjoy, which promotes Van Buren County as a good place to live or visit."
The original Master Gardeners were founded by the Arkansas Cooperative Extension Services in Pulaski County in 1988 and now has chapters in every county of Arkansas.
The Van Buren County Master Gardeners were formed in 1998 and, at present, have a membership of 50 active members. Each member must volunteer a minimum of 20 hours annually.
Some Master Gardener projects are the Van Buren County courthouse, Van Buren County Court Annex, Ed Leamon Park (9 gardens), Fairfield Bay Memorial Garden, Fairfield Bay Entrance Garden and the Fairfield Bay Recycle Center. They received top prize at the annual State Master Gardeners' Conference for their work on Ed Leamon Park.