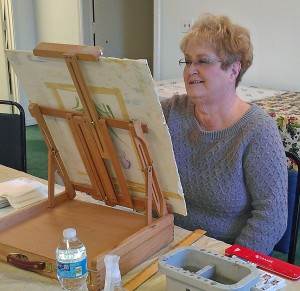 When Ellen Kelly left South Central Kansas' prairie in 2005 for the Arkansas woods, she decided that it was time to fulfill a lifelong ambition to paint. The creative side of her personality began at age 4 in an art studio. Although she won her first art competition at age 8, her parents didn't want to pay for art lessons. Consequently, she satisfied the desire to express art by teaching herself to paint. When she lived in Kansas, she focused on china painting following the lead of her great-aunt and a friend who is an accomplished china painter. Ellen considers herself an "illustrator" of what is seen in our world. Her oils are "realistic" and use an Old Master style with detail and precision, as opposed to the "looser" style evident in many contemporary works. She feels there is no right or wrong way, only what appeals to the eye of the beholder. Acrylics and watercolor round out other mediums used in her artwork. She is always looking for something new to try which is why her membership in North Central Arkansas Artist League provides much inspiration. The interaction with fellow artists gives Ellen a forum for expression in the arts. Likewise, belonging to Arkansas Artist Registry keeps her posted on competitions all over the United States. "The starting point for all achievement is desire."
This fall, Ellen will have a One Woman Art Exhibit at First Security Bank in Clinton, Arkansas. This will be a new venue for her body of work. Kelly's artwork may also be seen in the present exhibit at the NCA Art Gallery/Conference Center and the Ozark Health Medical Center in Clinton.
Ellen resides in Fairfield Bay with her husband, George and her beloved dog, Molly.
CALLING ALL ARTISTS !!!
The North Central Arkansas (NCA) Art Gallery invites Painters, 3 Dimensional Artists, and photographers to submit works for the April 18 Art Exhibition in the Fairfield Bay Conference Center, 110 Lost Creek, Fairfield, Bay. The artwork is open to all artist eighteen years or older. Registration Forms are available at the Fairfield Bay Conference Center or e mail Charlotte Rierson, Art Coordinator – [email protected] Deadline for entry is April 4.
About the North Central Arkansas (NCA) Art Gallery.
The North Central Arkansas (NCA) Art Gallery's mission is to bring quality Fine Art to our community with good taste & family values. The artists are professionals as well as emerging new artists. The artwork is open to all Artist and chosen by a selection committee under the direction of Coordinator, Charlotte Rierson. Art Gallery hours are Mon. Thru Sat. 9:00-4:00 unless special events or conferences then the hours will be extended.  The viewing of the Art is open & free of charge to the public. All art is available for purchase. The present exhibit has thirty six artists exhibiting their artwork and will be exhibited until April 18.
The NCA Art Gallery is sponsored by the North Central Arkansas Foundation for the Arts & Education (NCAF&E) and The City of Fairfield Bay. For more information contact NCA Art Coordinator, Charlotte Rierson: 501-884-6100, email [email protected] or Conference Center Directors, Wilba or Bob Thompson [email protected], for more information: 501-884-4202, 110 Lost Creek Parkway, Fairfield Bay, AR 72088.