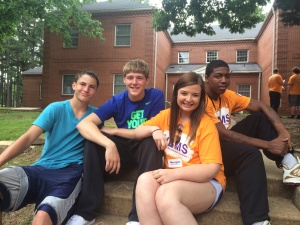 Two Shirley High School students have been officially recognized for completing the 2014 year of Lyon College's competitive Upward Bound Math-Science (UBMS) Program in Batesville, AR. Senior Seth Linn of Shirley and sophomore Joseph Owen of Fairfield Bay participated in the program this summer and Linn received a "Citizenship" award in his literature class.
In the UBMS program, students take classes and receive tutoring to help get them ahead in school the following year and also participate in mentored scientific research projects with professors and teachers. This summer, Linn participated in a Digital Logic, computer science class with Lyon professor David Sonnier. The group learned about how circuit boards, silicon chips, and wires are program and interact and used this knowledge to build several devices themselves. Owen participated in the Water Rockets group lead by teacher Alan Smith. The rockets group studied the physics and engineering of rockets and water propulsion systems. They put their knowledge to the test by designing their own rockets and seeing which designs had the highest flight.
In addition to taking classes and receiving tutoring, the students traveled to several regional cities this summer, went on a college tour of ASU Jonesboro and visited the United States Geological Survey (USGS) in Little Rock to meet scientists and professionals working there. Some notable trips included visiting the Civil Rights Museum, Playhouse on the Square, Central BBQ in Memphis and a three day trip to St Louis that featured visits to City Museum, the Arch, the Science Center and IMAX Theater, and Six Flags amusement park.
The Lyon College UBMS Program is a federally funded TRIO program that is completely free for eligible students from 12 select high schools in central and eastern Arkansas. UBMS is a college readiness program that helps motivated youth enter and succeed in college and beyond. Once accepted, students are in the program until their senior year of high school. The program consists of a 5 week residential summer component at Lyon College and four Saturday Sessions held during the school year at the college. During the summer, students perform research with college professors, take math, English, and elective courses, get ACT prep and tutoring, academic advising, and go on cultural and educational field trips to regional cities like Little Rock, Memphis, Dallas, and more.
While the students are at Lyon College, all meals, travel fees, and room and board expenses are covered by the program. In addition to program services, students also receive a $15 weekly stipend to cover any personal expenses.
Interested parents, teachers, and students are invited to visit our website at www.lyon.edu/UBMS, or find us on Facebook at Upward Bound Math Science at Lyon College and Twitter @LyonCollegeUBMS to get more information. You can contact the program directly at any time at [email protected] or toll free at 888-577-7984. The deadline to apply for the 2015-2016 year is March 20, 2015 (see website for application and details). Representatives from UBMS will be visiting eligible high schools during February and March –make sure to stop by and see us!