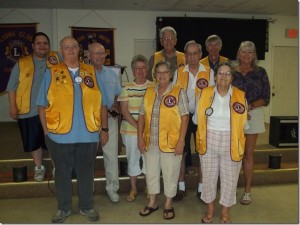 The Fairfield Bay Lions have elected and installed their new officers for 2013 – 2014. At our last meeting on Thursday, June 27 the officers pictured right, were installed and will serve from July 1, 2013, until June 30, 2014. The officers; President, Carol Woolsey, 1st Vice President, Jean Hooper, 2nd Vice President, Joe Woolsey, Secretary, Lynn Corcoran, Treasurer, Gail Nelson, Tail Twister, Wilba Thompson, Assistant Treasurer, Glen Shunneson and Lion Tamer, Gail Carlo. Committee chairs and board members are Immediate Past President, Jim Meadows, Membership Chair, Mary Meadows, Building Manager, Dave Lochowitz and Board Members, Bob Thompson, Kevin Feeler and Irwin Vandygriff. We would like to extend our congratulations to each of these individuals for stepping up to the Lion motto of "We Serve."
An update on Lion Mark Mansell and his wife, Debbie (who are on a motorcycle ride to raise funds for Leader Dogs For The Blind), have raised over $18,000 since June 15. After visiting all 48 contiguous states, hopefully they will approach last year's total of over $100,000 by the rides conclusion on July 8, 2013. To donate or see information regarding the ride please go to www.leaderdog.org.
SPECIAL, SPECIAL, SPECIAL. We will have a Thursday July 4th, All-U-Can-Eat Breakfast at the Lions Den on Dave Creek Parkway from 7:30 – 10 a.m. Only $5 for adults, $3 for youth 6-12 and free for children 5 and under (with paid adult). Enjoy all you can eat pancakes or gravy and biscuits, accompanied by 2 pieces of sausage and coffee or milk. Extra sausage, milk, or orange juice is available for a nominal cost and coffee refills are free. Our All U Can Eat Breakfasts are also served each Tuesday and Saturday morning from 7:30 – 10 a.m. Our next regular meeting will be on Thursday July 14. Dinner will be served at 5:30 p.m. and our meeting and speaker will begin at 6 p.m. Our next speaker will be Penny Stringer, County Coordinator for the Van Buren County senior aging program. BINGO is held each Monday evening with doors opening at 6:30 .pm. and the first game at 7 p.m.