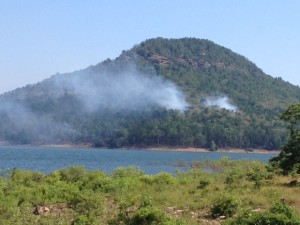 The Army Corps of Engineers, Greers Ferry Project Office wants its neighbors and visitors to know that because of a lightening strike on July 10 Sugar Loaf Mountain has a fire burning on it.
Visitors are asked to not hike the mountain as long as an active fire is present.
Emergency responders are aware of the fire but because of the extreme terrain and remote location fire crews will let the fire burn out on its own. More than five acres have burned and the walking trail is working as a firebreak, preventing the fire from spreading.
Corps officials add that fires are not always a bad thing.
Historically, fire has played a large role and is a natural and beneficial occurrence in our southern forest's ecosystems. The fire will be very advantageous to this area by supporting the reestablishment of favorable native grasses and herbaceous species, creating food resources and increasing cover for nesting and forage for a variety of wildlife species. It will also reduce fuel accumulation, which will decrease the likelihood of a devastating wildfire in the future.
Other hiking opportunities around Greers Ferry Lake include: Mossy Bluff and Buckeye trails, located near the project office; Josh Park Memorial Trail, located near Dam Site Park; and Collins Creek Trail (operated and maintained by the Arkansas Game and Fish Commission), located in John F. Kennedy Park.
For more information about how prescribed burns benefits Greers Ferry Lake, contact Ranger David Moore at 501-340-1910. Recreation information can be found on the Internet at www.swl.usace.army.mil, on Facebook at www.facebook.com/littlerockusace, and on Twitter at https://twitter.com/usacelittlerock.