by Jim & Phyllis Wilkins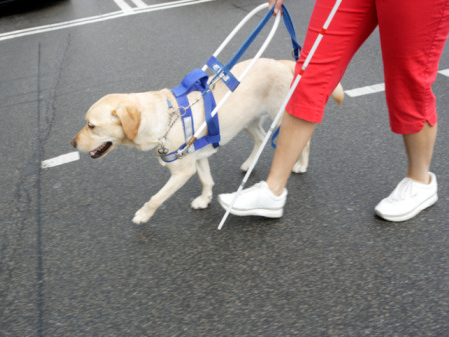 "It all began in 1938 when Charles A. Nutting, Donald P. Schuur and S. A. Dodge led the Uptown Lions Club of Detroit in establishing a school to train dog guides for the blind. Their motivation was Dr. Glen Wheeler, a fellow Uptown Lion whose attempts to be accepted by another dog guide school proved unsuccessful. The first students were housed at the Park Avenue Hotel in Detroit and graduated in the fall of 1938. Three Detroit Lion Clubs held a contest among all Lions Clubs for a new name for their venture. Over 500 names were submitted from around the world. The winning name (Lions Leader) was submitted by the Lions Club of Coulterville, Illinois." (Leader Dogs for the Blind; History of Lions and Leader Dogs).
The Leader Dog mission is to enhance the lives of people who are blind or visually impaired. Since 1939 the school has raised, trained and graduated more than 14,000 Leader Dogs at an average approximate cost of over $25,000 per Leader Dog today up from the original $600 per Leader Dog. Leader Dog operates entirely on donated funds, no governmental or United Way funding is received. Leader Dog celebrated it's 75th anniversary in 2014. There is no charge for any of the services, including the dog guide, equipment, transportation to and from the school and room and board for 26days. The continued success of the Leader Dog program depends on the generosity of contributors and community funding sources around the world. For more information concerning the Leader Dogs for the Blind program go to www.leaderdog.org.
Our next meeting will be on Thursday 12 March with dinner being served at 5:30 p.m. and the meeting with guest speaker at 6 p.m. Visiting Lions and the public are always welcome at the meetings and dinner reservations ($7.50 per person) can be made by calling Lion Jeannie Hooper @ 884-3202.
BINGO is held on Tuesday evenings at the Lions Den on Dave Creek Parkway with doors opening at 5:30 p..m. and the first game called at 6 p.m.