Join us for all the great events at the Conference & Visitor Center.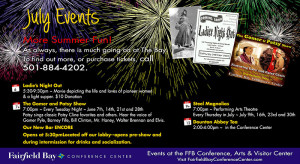 We invite all of our visitors to join us each Monday at 9 a.m. for free coffee and donuts along with milk for the kids. Lots of door prizes and fun information on all our activities for the week.
The Gomer and Patsy Show
Each Tuesday Now Through September 8
Tickets-Adults $15 – Children 6-12 $10 – Children Under 6 Free
Show Time 7 p.m.
We have been having a great time with many of our Fairfield Bay Visitors over the last three weeks at the Gomer and Patsy Show. Join us in the Encore Bistro open at 5:30 p.m. for a refreshing beverage before the show or just a fun social time with friends. This is a wonderful time to show your support for the community and show our visitors the spirit of Fairfield Bay.
Ladies Night Out is Thursday July 2nd – first Monday of each month. Light dinner @ 5pm and a Movie @ 6:30. Donation of $10.
Ready for an Encore?
While at the Conference Center, enjoy an "ENCORE" celebration at our Newly opened bar just located off the lobby–opens pre-show and during intermission for drinks and socialization. Join us in the Encore Bistro for a light dinner, our Love Saga Movie, and dessert following the movie. ENCORE opens at 5:30 p.m.
Our Town Productions Presents
• Steel Magnolia in the Performing Arts Theatre
July 9th, 16th, 23rd and 30th at 7p.m.
Opening night for the production of Steel Magnolias will be Thursday, July 9 at the Performing Arts Center. Our Town Productions will be performing this poignant yet humorous tail set in the south each Thursday in July.
Tickets are $15 and can be purchased at the Conference Center or at the Fairfield Bay Library. Refreshments will be available at Encore, starting at 6:30 p.m.
• July 12th, "Downton Abbey Tea" sponsored by NCAFAE.
For lodging or more information about the Conference and Visitor Center visit www.FairfieldBayConferenceCenter.com, or call 501-884-4202.