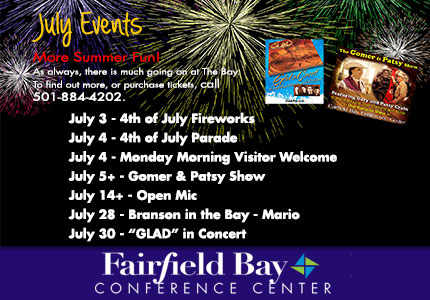 Great Things Happening at the Conference Center 501-884-4202
4th of July Festivities:
• Sunday, July 3rd, Fireworks at dark (9:30pm) at the FFB Marina
• Monday,  July 4th of Parade starting at the FFB Conference Center

On-Going Events:
• Monday Morning – Visitor Welcome Coffee and Donuts – 9:00 am
Do to the time of the parade – Monday July 4th. Breakfast starts at 8:00 am
• Gomer and Patsy Show each Tuesday – 7:00 pm thru October 25
• Open Mic, Second and Third Thursday each month – 6:00 pm to 9:00 pm
• Mario – 4th Thursday – 7:00 pm (2016 season)
July Events Only:
Lifeline Screening – July 8 – 8:30 am to 4:00 pm
GLAD In Concert – July 30 – 7:00 pm
Open Mic
Thursday July 14 and 21 – 6:00 pm to 9:00 pm
Come and join John, Jeff and Greg along with other guest artists for a fun evening of great musical entertainment. Our Encore Lounge will be open with lots of special drinks and food will be available to make for a relaxing evening for all.
Gomer & Patsy Return!
Every Tuesday through October 25 – 7:00 pm
Gomer and Patsy are back with their fun and laugh filled "Gomer and Patsy Show". The show features the comedy from characters of the Andy Griffin Show and the music of Patsy Cline and George Strait. Tickets are $15.00 for Adults, $10.00 for children six to twelve, children under six
are free.
Mario – Branson In The Bay (2016 Season)
Thursday July 28
Show Time 7:00 pm – Tickets $20.00
Mario returns with his award-winning musical and comedy show direct from Branson. Come and enjoy an evening of timeless music and the comedy of Rodney Dangerfield. If you're looking for a performer who brings you the songs ranging from Frank Sinatra to Hank Williams, then I think you may have found the right place. For Mario, it's all about FUN. Mario is a popular Branson entertainer and soon to be part of the Vegas RatPack show. So don't miss out on this entertainer. Mario is a class Las Vegas act that will be with us for the 2016 season only.
July 30 7:00 PM
GLAD in Concert- FREE
One of Christians' most enduring vocal bands with a 30-year history of recording and concert ministry. This will be a free concert but seating is limited so you will need a ticket. Tickets are now available at the Conference Center. 884-4202. The seating is filling up please call for your place.
North Central Arkansas Art Gallery
Please remember that we have an extensive showing of local and regional art inside the conference center.
For Overnight Lodging and all information about activities at the center call: 501-884-4202.
Your Conference & Visitor Center Needs You
Our busy season is fast approaching. If you would like to lend a helping hand at the Fairfield Bay Conference Center, please see Trudy or Wilba. We need people for helping with events, office, set-up and more. Let us know what you are available to do and when. We know we can find a job for you AND we know you will enjoy working with our fun loving crew.
For more information about the Conference and Visitor Center visit www.FairfieldBayConferenceCenter.com, or call 501-884-4202.
Save
Save
Save
Save